Microsoft System Center: Building a Virtualized Network Solution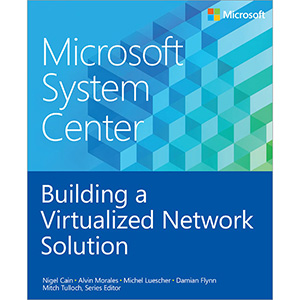 Part of a series of specialized guides on System Center – this book provides focused drilldown into building a virtualized network solution. Series editor Mitch Tulloch and a team of System Center experts provide concise technical guidance as they step you through key build, configuration, and implementation tasks.
Chapter 1: Key concepts. A virtualized network solution built on Windows Server 2012 and System Center 2012 SP1 depends on a number of different components, and this chapter outlines the role each of these components plays in the overall solution and how they are interconnected.
Chapter 2: Logical networks. This chapter takes a look at some of the main reasons why you would (or would not) create a logical network, provides an overview of the key considerations, outlines some best practice guidance, and describes a process for identifying the set of logical networks that are needed in your environment
Chapter 3: Port profiles. This chapter discusses the different types of port profiles in Microsoft System Center 2012 Virtual Machine Manager (VMM)— uplink port profiles and network adapter port profiles—describes what they are used for, and provides detailed guidance for how and when to create them.
Chapter 4: Logical switches. This chapter covers logical switches, essentially templates for Hyper-V switches, which allow you to consistently apply the same settings and configuration across multiple hosts and ensure that any Hyper-V switches you deploy and configure using a logical switch remain compliant with it.
Chapter 5: Deployment. This chapter builds on the material discussed in previous chapters and walks through common deployment scenarios, highlighting known issues (and workarounds) relating to the deployment and use of logical switches in your environment
Chapter 6: Operations. Even after having carefully planned a virtual network solution, things outside of your immediate control may force changes to your virtualized network solution. This chapter walks you through some relatively common scenarios and provides recommendations, advice, and guidance for how best to deal with them.
Book Details
Paperback: 136 pages
Publisher: Microsoft Press (February 2014)
Language: English
ISBN-10: 0735683107
ISBN-13: 978-0735683105
Download [31.3 MiB]