Adobe Acrobat X Classroom in a Book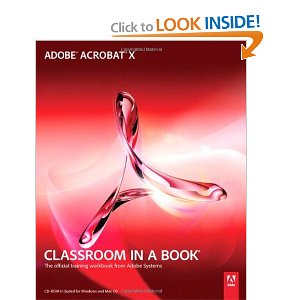 The fastest, easiest, most comprehensive way to learn Adobe Acrobat X
Classroom in a Book, the best-selling series of hands-on software training workbooks, helps you learn the features of Adobe software quickly and easily. Classroom in a Book offers what no other book or training program does – an official training series from Adobe Systems Incorporated, developed with the support of Adobe product experts.
Adobe Acrobat X Classroom in a Book contains 13 lessons. The book covers the basics of learning Adobe Acrobat and provides countless tips and techniques to help you become more productive with the program. You can follow the book from start to finish or choose only those lessons that interest you.
Table of Contents
1 Introducing Adobe Acrobat X
2 Exploring the work area
3 Creating Adobe pdf files
4 Reading and Working with PDF Files
5 Using Acrobat with Microsoft Office Files (Windows)
6 Enhancing and Editing PDF Documents
7 Combining Files in PDF/Portfolios
8 Adding signatures and security
9 Using Acrobat in a Review Cycle
10 Working with forms in Acrobat
11 Using Actions
12 Using the legal features
13 Using acrobat in professional printing
INDEX
About the Author
The Adobe Creative Team of designers, writers, and editors has extensive, real world knowledge of Adobe products. They work closely with the Adobe product development teams and Adobe's Instructional Communications team to come up with creative, challenging, and visually appealing projects to help both new and experienced users get up to speed quickly on Adobe software products.
Book Details
Paperback: 336 pages
Publisher: Adobe Press (December 2010)
Language: English
ISBN-10: 0321751256
ISBN-13: 978-0321751256
Download [5.7 MiB]