ADempiere 3.6 Cookbook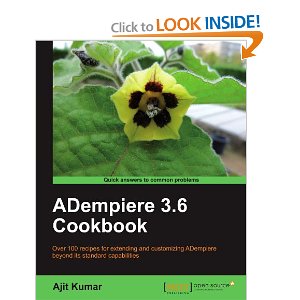 ADempiere is one the of the leading open source ERP products in today's business market. ADempiere offers everything you need to make your business successful: efficient data management, streamlined business processes, reduction in costs, and minimal complexity.
This practical cookbook offers effective recipes for the extension and customization of ADempiere. It bypasses unnecessary theory. You will learn to install ADempiere correctly and get straight into practical tasks.
When you read the book, you'll understand ADempiere workflow and the important functions of managing your data. Real-world business-critical activities such as integrating ADempiere with e-mail clients, office suites, shipping data, analytical processing tools, reporting tools, shopping carts, and web services are covered in detail.
What you will learn from this book :
Install ADempiere from the ground up so you are ready to get up and running
Customize ADempiere to suit your business needs
Configure Web Services for ADempiere
Integrate shopping carts such as Webstore, VirtueMart, and PayPal
Develop reports with ADempiere
Create new payment methods such as Interest Free Credit
Analyze data using graphs, charts, and statistical reporting tools
Acquire real-time shipping data and import it into the ADempiere shipment module
Merge mail with Open Office and Star Office
Integrate with e-mail clients such as Mozilla Thunderbird
Approach
Written in a cookbook style, this book offers solutions using a recipe-based approach. Each recipe contains step-by-step instructions followed by an analysis of what was done in each task and other useful information. The cookbook approach means you can dive into whatever recipes you want in no particular order.
Who this book is written for
If you want to easily implement ADempiere in your organization, this book is for you. This book will also be beneficial to system users and administrators who wish to implement an ERP system. Only basic knowledge of ADempiere is required. This cookbook will build on that basic knowledge equipping you with the intermediate and advanced skills required to fully maximize ADempiere. A basic knowledge of accounting and the standard business workflow would be beneficial.
Book Details
Paperback: 332 pages
Publisher: Packt Publishing (March, 2011)
Language: English
ISBN-10: 1849513384
ISBN-13: 978-1849513388
Download [10.5 MiB]