A Practical Guide to Designing the Invisible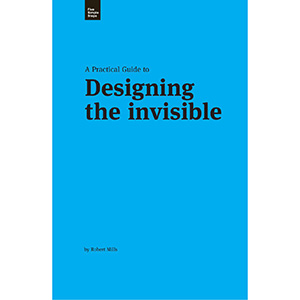 It's not enough to design a website that looks nice. What's the story? Why is that header green? Why is that icon shaped like a fish? Designing for the web is not just about fancy layouts, the latest CSS3 or HTML5 or UX technique. Great web experiences tell a great story, and Designing the Invisible will give you the tools to help you do it.
From how to apply colour to tell the right story, through to using the right words, this book details the basics of building great web experiences. If you're starting out in web design then this book will give you some valuable tools in your design toolkit.
Who should read this book
This book is for design beginners. If you're not a designer but sometimes are asked to do design, then this book is for you. If you've just started out in design, or are at college or university, then this book is for you, too. If you're an experienced designer, then this book probably isn't your thing, maybe you'd like to buy this book instead?
You won't find any code in this book, and you don't need to know your way around HTML5 or the latest CSS3 updates. Lucky you.
Table of Contents
PART I: INVISIBLE COMMUNICATION
Chapter 1. What is invisible communication?
Chapter 2. The power of invisible communication
Chapter 3. Communication in cultures
Chapter 4. Who should care and when?
Chapter 5. Making the invisible visible
PART II: FOLLOWING THE RIGHT SIGNS
Chapter 6. Showing the way
Chapter 7. Context and culture
Chapter 8. Wayfinding the world
Chapter 9. Wayfinding on the web
Chapter 10. Case Study. Guardian.co.uk
PART III: USING THE RIGHT PALETTE
Chapter 11. The importance of colour
Chapter 12. The colour of life and the web
Chapter 13. Connotations of colour
Chapter 14. Colour in Cultures
Chapter 15. Case Study. Carsonified.com
PART IV: USING THE CORRECT LANGUAGE
Chapter 16. The invisible side of language
Chapter 17. How the words look
Chapter 18. The Periodic Table of Typefaces
Chapter 19. Tone of voice
Chapter 20. Case Study. Innocent Drinks
PART V: TELLING THE BEST STORY
Chapter 21. Introduction to storytelling
Chapter 22. Storytelling conventions
Chapter 23. Storytelling on the web
Chapter 24. Storytelling through brands
Chapter 25. Case Study. Squaredeye.com
Book Details
Paperback: 204 pages
Publisher: Five Simple Steps LLP (July 2011)
Language: English
ISBN-13: 978-0956174031
Download [35.1 MiB]