Instant Ember.js Application Development How-to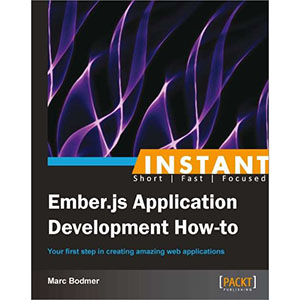 Ember.js is a frontend web development framework that organizes your JavaScript into clean, reusable code. With its powerful tools and concepts at your disposal you can create large scale web applications that rival native applications.
No matter how big your application gets, Ember.js makes your code manageable.
"Instant Ember.js Application Development: How-to" is a practical guide that provides you with clear step-by-step examples. The in-depth examples take into account the key concepts and give you a solid foundation to expand your knowledge and your skills.
That will help you utilize the power of Ember.JS in your applications.
As you progress through the initial examples you will begin to develop an understanding of how Ember.js organizes your frontend development. Reading further you will see how the Model-View-Controller architecture (MVC) is incorporated into Ember.js. We'll guide you through the basics of Handlebars HTML templates, before finally diving into how routing works within an application and how the state of the application changes as the user interacts with it.
Instant Ember.js Application Development: How-to will teach you to build ambitiously large web applications with practical examples.
What you will learn from this book
Determine where and how to incorporate Ember.js.
Get to know the MVC architecture.
Create an Ember model, view, and controller.
Define semantic Handlebars HTML templates.
Enhance Ember.js models with computed properties and bindings.
Import external data into an Ember.js application.
Build a router for your application.
Approach
Filled with practical, step-by-step instructions and clear explanations for the most important and useful tasks. Get the job done and learn as you go. A how-To book with practical recipes accompanied with rich screenshots for easy comprehension.This book follows a recipe-based approach that can be used both for problem solving or getting started with Ember.js. Regardless of your skill level you should find this book useful and beneficial to any of your application development projects.
Who this book is written for
Are you a frontend developer whose code has gotten out of control? This book will also show you how you can use Ember.js to make your web application easy to manage as it increases in complexity. Even if you've never used Ember.js before, but have HTML and JS skills, this guide will help you get up to speed in no time.
Book Details
Paperback: 48 pages
Publisher: Packt Publishing (February 2013)
Language: English
ISBN-10: 1782163387
ISBN-13: 978-1782163381
Download [758.6 KiB]