HTML, XHTML & CSS All-In-One For Dummies, 2nd Edition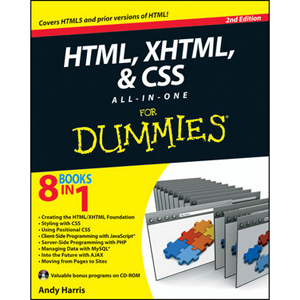 A complete and fully updated reference for these key Web technologies
HTML, XHTML, and CSS are essential tools for creating dynamic Web sites. This friendly, all-in-one guide covers what programmers need to know about each of the technologies and how to use them together.
Like the bestselling first edition, HTML, XHTML, and CSS All-in-One For Dummies, 2nd Edition makes it easy to grasp the fundamentals and start building effective Web pages. With new information about Web 2.0 and Ajax, it's the perfect reference as well.
HTML, XHTML, and CSS are the key technologies for building dynamic Web pages
This friendly, all-in-one guide explains each technology, shows how to use them together, and examines quality Web design and layout
Six self-contained minibooks cover HTML, CSS, design and layout, client-side JavaScript, Ajax and server-side, and putting it all together
Covers new Web development advancements including new technologies and changes to the standards
Includes a CD with additional valuable Web development programs and a companion Web site featuring the code used in the book
Web programmers and designers will find what they most need to know in HTML, XHTML, and CSS All-in-One For Dummies, 2nd Edition, helping them create the type of Web sites that today's market demands.
From the Back Cover
You too can become a Web wizard! Here's how to go from simple pages to super sites
Contemplating your first dip into Web page creation, or ready to take your sites to the next level? All you need are these eight minibooks. Newbies can start at the beginning for a complete understanding of basic page creation with HTML5, XHTML, and CSS. If you've been there and done that, jump ahead to managing data with MySQL, building AJAX connections, and more!
Lay the foundation — build the skeleton of your pages with XHTML, use CSS to add color and formatting, and create dynamic buttons or menus
Serve it up — move to the server and use PHP to program responses to Web requests or connect to databases
Manage data — set up a secure data server and create a reliable and trustworthy data back-end for your site
Explore AJAX — learn the essentials of AJAX, how to add events and animation, and cool ways to use the UI library
Create super sites — understand clients and servers, work with content management systems, and more
Open the book and find:
The basics of building XHTML documents
What to do with selectors, classes, and styles
How to build flexible layouts
Tips on using HTML5
Secrets of managing files and directories
All about SQL coding
AJAX essentials and how to add events with jQuery
The advantages of a Content Management System
Book Details
Paperback: 1080 pages
Publisher: For Dummies; 2nd Edition (November 2010)
Language: English
ISBN-10: 0470537558
ISBN-13: 978-0470537558
Download [54.6 MiB]