AutoCAD 2014 For Dummies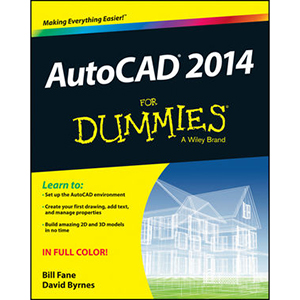 Find your way around AutoCAD 2014 with this full-color, For Dummies guide!
Put away that pencil and paper and start putting the power of AutoCAD 2014 to work in your CAD projects and designs. From setting up your drawing environment to using text, dimensions, hatching, and more, this guide walks you through AutoCAD basics and provides you with a solid understanding of the latest CAD tools and techniques. You'll also benefit from the full-color illustrations that mirror exactly what you'll see on your AutoCAD 2014 screen and highlight the importance of AutoCAD's Model view, which shows different line weights for printing in different colors.
Covers the latest AutoCAD features and techniques, including creating a basic layout, navigating the AutoCAD 2014 interface, drawing and editing, working with dimensions, plotting, adding text, using blocks, and more
Shows you how to make the best use of color in your AutoCAD designs, take advantage of the AutoCAD DesignCenter, and showcase your work to potential clients and customers
Includes practical advice and guidance on real-world methods and tips used by architects, engineers, and other CAD professionals to create compelling 3D models and detailed technical drawings
You'll quickly get up to speed on all AutoCAD has to offer with AutoCAD 2014 For Dummies in your toolbox.
Table of Contents
Part I: Getting Started with AutoCAD 2014
Chapter 1. Introducing AutoCAD and AutoCAD LT
Chapter 2. The Grand Tour of AutoCAD 2014
Chapter 3. A Lap around the CAD Track
Chapter 4. Setup for Success
Chapter 5. A Zoom with a View
Part II: Let There Be Lines
Chapter 6. Along the Straight and Narrow
Chapter 7. Dangerous Curves Ahead
Chapter 8. Preciseliness Is Next to CADliness
Chapter 9. Manage Your Properties
Chapter 10. Grabbing Onto Object Selection
Chapter 11. Edit for Credit
Chapter 12. Planning for Paper
Part III: If Drawings Could Talk
Chapter 13. Text with Character
Chapter 14. Entering New Dimensions
Chapter 15. Down the Hatch!
Chapter 16. The Plot Thickens
Part IV: Advancing with AutoCAD
Chapter 17. The ABCs of Blocks
Chapter 18. Everything from Arrays to Xrefs
Chapter 19. Call the Parametrics!
Chapter 20. Drawing on the Internet
Part V: On a 3D Spree
Chapter 21. It's a 3D World After All
Chapter 22. From Drawings to Models
Chapter 23. It's Showtime!
Part VI: The Part of Tens
Chapter 24. Ten AutoCAD Resources
Chapter 25. Ten System Variables to Make Your AutoCAD Life Easier
Chapter 26. Ten AutoCAD Secrets
Book Details
Paperback: 544 pages
Publisher: For Dummies (June 2013)
Language: English
ISBN-10: 1118603974
ISBN-13: 978-1118603970
Download [12.3 MiB]