The Complete Guide to Portfolio Construction and Management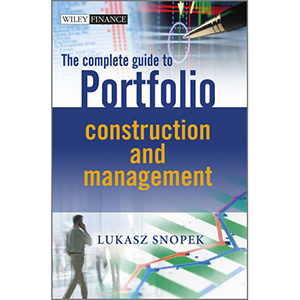 In the wake of the recent financial crisis, many will agree that it is time for a fresh approach to portfolio management. The Complete Guide to Portfolio Construction and Management provides practical investment advice for building a robust, diversified portfolio.
Written by a high-profile investment adviser, this book reveals a practical portfolio management framework and new approach to portfolio construction based on four key market forces: macro, fundamental, technical, and behavioural. It is an insight that takes the focus off numbers, looking instead at the role of risk and behavior in finance.
As we have seen with the recent finance meltdown, traditional portfolio management techniques are flawed. Investors need to understand those flaws and learn how to incorporate risk management and behavioral finance into their asset management strategies.
With a foreword by industry leader Francois-Serge L'habitant, this is your one-stop guide, with new ways for you to manage, grow and preserve your investment portfolio, even in uncertain markets.
Table of Contents
PART I: INVESTORS AND RISK
Chapter 1. Basic Principles
Chapter 2. Measures of Risk
PART II: ASSET CLASSES AND THEIR DEGREE OF RISK
Chapter 3. Asset Classes and Associated Risks
Chapter 4. Particular Forms of Investment within Asset Classes
Chapter 5. Classification of Asset Classes According to their Degree of Risk
PART III: THE MARKET
Chapter 6. Market Efficiency
Chapter 7. Fundamental Analysis
Chapter 8. Technical Analysis
Chapter 9. Investment Approach Based on "Psychological Principles"
PART IV: VALUATION OF FINANCIAL ASSETS
Chapter 10. Valuation of Money Market Investments
PART V: THREE PRACTICAL APPROACHES TO SECURITY SELECTION: BUFFETT, GRAHAM AND LYNCH
Chapter 17. Warren Buffett's Value Investing Approach
Chapter 18. Benjamin Graham's Approach
Chapter 19. Peter Lynch's Approach
PART VI: BEHAVIOURAL FINANCE
Chapter 20. Investors in Behavioural Finance
Chapter 21. Heuristics and Cognitive Biases
Chapter 22. Investment Approach Based on Behavioural Finance
PART VII: FORECASTING MARKET MOVEMENTS
Chapter 24. Investment Approach Based on Probabilities
Chapter 25. Random Walk Theory
Chapter 26. Market Timing
Chapter 27. Macroeconomic Investment Approach
PART VIII: MODELLING MARKET MOVEMENTS
Chapter 28. Suggested Investment Approach
Chapter 29. The Forces
PART IX: PORTFOLIO CONSTRUCTION AND MANAGEMENT
Chapter 32. Modern Portfolio Theory According to Markowitz
Chapter 33. The Capital Asset Pricing Model (CAPM)
Chapter 34. The Minimum Variance Portfolio
Chapter 35. Value-at-Risk (VaR)
Chapter 36. Discretionary Mandates
Chapter 37. The Dollar-cost Averaging Approach
Chapter 38. Our Portfolio Construction Method
PART X: ATTRACTIVENESS OF THE DIFFERENT ASSET CLASSES
Chapter 39. Asset Classes
Chapter 40. The Four Forces of the Investment Model
Chapter 41. Table Summarising the Different Forces
Chapter 42. A Final Example: Analysis of the Subprime Crisis
Book Details
Hardcover: 310 pages
Publisher: Wiley (January 2012)
Language: English
ISBN-10: 111997688X
ISBN-13: 978-1119976882
Download [2.6 MiB]