WordPress 3 For Business Bloggers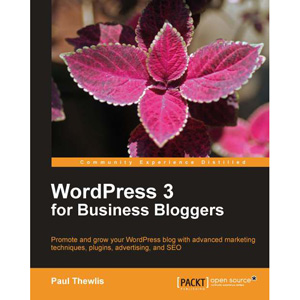 WordPress makes the business of blogging easy. But there's more to a successful business blog than just churning out posts. You need to understand the advanced marketing and promotion techniques to make your blog stand out from the crowd, attract visitors, benefit your brand, and deliver a worthwhile return on your investment.
WordPress 3 for Business Bloggers shows you how to use WordPress to run your business blog. It covers everything you need to develop a custom look for your blog, use analytics to understand your visitors, market your blog online, and foster connections with other bloggers to increase your traffic and the value of your blog.
You begin by identifying your blog's strategic goals before going step-by-step through the advanced techniques that will grow your blog to its full business potential.
You will learn how to build a custom theme for your blog and incorporate multimedia content like images and video. Advanced promotion techniques like SEO and social media marketing are covered in detail before you learn how to monetize your blog and manage its growth.
WordPress 3 for Business Bloggers will help you to create a blog that brings real benefits to your business.
What you will learn from this book:
Develop a 'blogging business plan' – clarify your blogging goals and sketch out a process for achieving them in WordPress
Build a custom theme so that the look of your blog immediately communicates your brand to visitors
Engage with the blogosphere and create beneficial relationships with other bloggers, making the most of each other's traffic and customers
Optimize your site for search by incorporating good SEO practices into your blog strategy and content
Use social media marketing such as Twitter, Facebook, Digg, Reddit, and Delicious to drive traffic to your blog
Monitor visitors and analyze their activity using WordPress.com stats, Feedburner for your RSS feeds, and Google Analytics
Manage adverts and implement revenue-generating features using Google AdSense and affiliate programs
Incorporate multimedia on your blog, including video and image galleries
Approach
This is a practical, hands-on book based around a fictitious case study blog, which you will build on a development server using WordPress. The case study grows chapter by chapter, from installing your local development server, right up to the finished blog.
Who this book is written for
This book is for anybody running or starting a business blog using WordPress, whether you plan to use your blog for PR and marketing, or want to profit directly from blogging.
Book Details
Paperback: 346 pages
Publisher: Packt Publishing (December 2011)
Language: English
ISBN-10: 1849511322
ISBN-13: 978-1849511322
Download [35.8 MiB]