Drupal User's Guide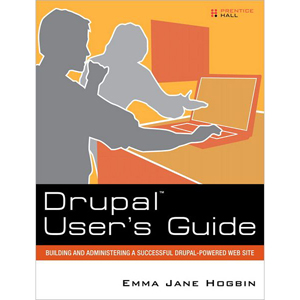 Finally, Drupal Made Easy: A Step-By-Step Guide from Planning to Finished Site
The open source content management system Drupal offers amazing flexibility, sophistication, and power. The catch? Many first-time users find it difficult to get started, and most Drupal books don't help with the initial stages. Drupal™ User's Guide is different: easy to use, fun to read, practical, and complete!
Long-time Drupal site developer Emma Jane Hogbin guides you through every step of building sites with Drupal, from installation and site planning through launching your first site. Drawing on her experience teaching thousands of beginners, she covers both Drupal and Web design tasks, showing exactly how they fit together.
Drupal™ User's Guide shows how to use Drupal 7's newest improvements to build more modern, manageable sites for any business or organization. Hogbin covers crucial topics other Drupal books ignore, including search engine optimization and accessibility.
Walk through installing Drupal on Mac OS X and Linux Web servers
Get comfortable with Drupal 7's new administrative interface
Build a basic site in minutes
Create S.M.A.R.T. (Specific, Measurable, Attainable, Realistic, Timely) site goals
Audit your existing content so you can make the most of it
Explore, choose, and customize Drupal themes
Walk through building a community site with private discussion area
Build a complete business association directory site
Use Web forms to capture and display any kind of content
Take advantage of Drupal's powerful Views module
Choose the right Drupal and third-party modules to build virtually any site
Optimize your site for Google and other search engines
Use advanced techniques to improve your visitors' experiences
If you want to create great sites with Drupal–with no hassle, no confusion, and no degree in computer science–this is the book for you!
Book Details
Paperback: 464 pages
Publisher: Prentice Hall (September 2011)
Language: English
ISBN-10: 0137041292
ISBN-13: 978-0137041299
Download [33.5 MiB]