Windows 8 eLearning Kit For Dummies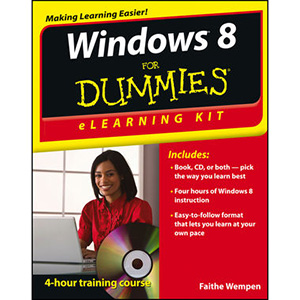 Use Windows 8 without worry with this complete learning kit
If you want to master Windows 8, this value-packed eLearning kit is essential to your learning process. A complete Microsoft Windows 8 course, it includes a full-color printed book and an interactive eLearning course on CD. Each lesson opens with an introduction to the content and explains the importance and potential uses for every task described. Featuring both written and animated step-by-step how-tos, practice labs, helpful videos, numerous examples, and a host of For Dummies hints and tips, this package makes your learning process easier.
Follow the material in sequence, or jump in and out as you wish; you learn at your own pace, in your own way. Throughout, you will benefit from illustrations, animations, voiceover explanations, and the option of closed captioning if you find you learn better when you can read the instructions.
Helps self-motivated learners master Windows 8 inside and out
Includes an easy-to-follow, full-color book and an interactive Dummies eLearning Course that corresponds with the book on CD
Hightlights material with integrated audio and video instruction on CD that helps you learn via animations, screencasts, and more
Offers chapter summaries, practice exercises, discussions of concepts and essential terms, and other learning aids
Allows you to follow the material sequentially or choose separate sections at your own time and pace
Windows 8 eLearning Kit For Dummies is the ultimate guide to a productive and flexible learning experience.
Table of Contents
Lesson 1. Getting Started with Windows 8
Lesson 2. Running and Managing Applications
Lesson 3. Customizing the Start Screen and the Desktop
Lesson 4. Storing and Managing Files and Folders
Lesson 5. Using Internet Explorer 10
Lesson 6. Networking Your PCs
Lesson 7. Managing Accounts and User Settings
Lesson 8. Keeping Your System Healthy and Secure
Lesson 9. Troubleshooting Common Problems
Lesson 10. Using Windows 8 Apps
Bonus Lesson 1. Using Windows Media Player On the Web
Book Details
Paperback: 416 pages
Publisher: For Dummies (January 2013)
Language: English
ISBN-10: 1118202872
ISBN-13: 978-1118202876
Download [37.0 MiB]