VCP4 Exam Cram: VMware Certified Professional, 2nd Edition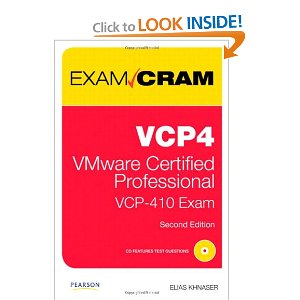 VCP4 Exam Cram, Second Edition, is the perfect study guide to help you pass the VMware VCP-410 exam. It provides coverage and practice questions for every exam topic. The book contains an extensive set of preparation tools, such as quizzes, Exam Alerts, and a practice exam, while the CD provides real-time practice and feedback with a 75-question test engine.
Covers the critical information you'll need to know to score higher on your VCP-410 exam!
Master the essential concepts of VMware vSphere 4
Plan, install, deploy, and configure ESX/ESXi 4.1
Understand how VMware vSphere 4 is licensed
Implement reliable virtualized storage operations
Administer ESX/ESXi 4.1 with vCenter 4.1
Manage virtual machine operations
Systematically secure your virtual infrastructure
Manage and monitor virtual resources
Troubleshoot problems with ESX/ESXi 4.1
Implement effective backup, disaster recovery, and business continuity
Maximize system availability in virtualized environments
Elias Khnaser is an author, speaker, and IT consultant specializing in Microsoft, Citrix, and VMware virtualization technologies. Elias is the practice manager for virtualization and cloud computing at Artemis Technology. With more than 14 years of experience, Elias is one of the world's leading experts on virtualization and cloud computing and is a recipient of the VMware vExpert award.
CD Features 75 Practice Questions
The test engine gives you an effective tool to assess your readiness for the exam
Detailed explanations of correct and incorrect answers
Multiple test modes
Random questions and order of answers
Coverage of each VCP-410 exam topic
Book Details
Paperback: 400 pages
Publisher: Que; 2nd Edition (January, 2011)
Language: English
ISBN-10: 0789740567
ISBN-13: 978-0789740564
Download [8.6 MiB]