Windows 8.1: The Missing Manual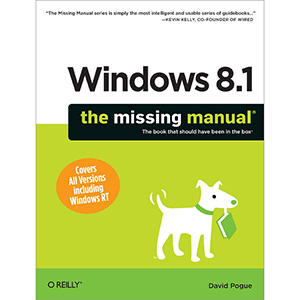 Windows 8.1 continues the evolution of the most radical redesign in Microsoft's history. It combines the familiar Windows desktop with a new, touchscreen-friendly world of tiles and full-screen apps. Luckily, David Pogue is back to help you make sense of it—with humor, authority, and 500 illustrations.
The important stuff you need to know:
What's new in 8.1. The update to 8.1 offers new apps, a universal Search, the return of the Start menu, and several zillion other nips and tucks.
New features. Storage Spaces, Windows To Go, File Histories—if Microsoft wrote it, this book covers it.
Security. Protect your PC from viruses, spyware, spam, sick hard drives, and out-of-control kids.
The network. HomeGroups, connecting from the road, mail, Web, music streaming among PCs—this book has your network covered.
The software. Media Center, Photo Gallery, Internet Explorer, speech recognition—this one authoritative, witty guide makes it all crystal clear. It's the book that should have been in the box.
Table of Contents
Part One: TileWorld
Chapter 1. The Start Screen
Chapter 2. Customizing the Lock, Login & Start Screens
Chapter 3. How TileWorld Works
Chapter 4. TileWorld's Starter Apps
Chapter 5. TileWorld Settings
Part Two: The Windows Desktop
Chapter 6. File Explorer, Folders & the Taskbar
Chapter 7. Searching & Organizing Your Files
Chapter 8. Redesigning Your Desktop World
Chapter 9. Help at the Desktop
Chapter 10. Programs & Documents
Chapter 11. The Desktop's Starter Programs
Chapter 12. The Control Panel
Part Three: Windows Online
Chapter 13. Hooking Up to the Internet
Chapter 14. Security & Privacy
Chapter 15. Internet Explorer 11
Chapter 16. Windows Live Mail
Part Four: Pictures & Music
Chapter 17. Windows Photo Gallery
Chapter 18. Windows Media Player
Part Five: Hardware & Peripherals
Chapter 19. Printing, Fonts & Faxing
Chapter 20. Hardware & Drivers
Part Six: PC Health
Chapter 21. Maintenance, Speed Tweaks & Troubleshooting
Chapter 22. Backups & File History
Chapter 23. The Disk Chapter
Part Seven: The Windows Network
Chapter 24. Accounts (and Logging On)
Chapter 25. Setting Up a Small Network
Chapter 26. Corporate Networks
Chapter 27. Sharing Files on the Network
Chapter 28. The Road Warrior's Handbook
Part Eight: Appendixes
Appendix A. Installing Windows 8.1
Appendix B. Fun with the Registry
Appendix C. Where'd It Go?
Appendix D. Master List of Gestures & Keyboard Shortcuts
Book Details
Paperback: 952 pages
Publisher: O'Reilly Media (November 2013)
Language: English
ISBN-10: 1449371620
ISBN-13: 978-1449371623
Download [78.2 MiB]