Instant Hyper-V Server Virtualization Starter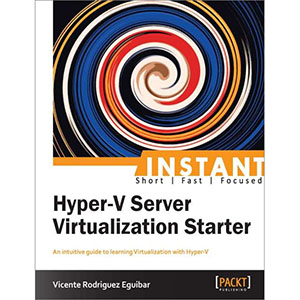 Doing more with less and making the most of what we have is the aim of virtualization..
Although resources such as OS and printers are still shared, under the time-sharing model, in a virtualized environment individual virtual servers are isolated from each other, giving an illusion of multiple fully functional systems. Hyper-V server 2008 R2 provides software infrastructure and basic management tools that you can use to create and manage a virtualized server computing environment.
"Instant Hyper-V Server Virtualization Starter" will teach you the basics of virtualization, and get you started with building your first virtual machine. This book also contains tips and tricks for using Microsoft Hyper-V server 2008 R2.
This book is a crash course on getting your virtualization infrastructure working, creating a virtual machine, and making it more robust by anticipating failures. You will also learn how to create a virtual network so that your virtual machines can communicate among themselves and the rest of the world. You will even learn to how to calculate the costs involved in your Microsoft Hyper-V virtualization solution.
What you will learn from this book
Learn the basics of virtualization and the fundamentals of Hyper-V
Install a Hyper-V role on your Windows server
Create your first virtual machine in three steps
Make a capacity planning exercise for virtualization
Integrate the virtual network into your physical one
Make your virtual machine robust against anticipating failures
Approach
Get to grips with a new technology, understand what it is and what it can do for you, and then get to work with the most important features and tasks. This book is a practical, step-by-step tutorial that demonstrates topics ranging from virtual machine installation and virtual network creation to service integration, virtual switch configuration, machine portability, virtual disk management, and more.
Who this book is written for
"Instant Hyper-V Server Virtualization Starter" is especially designed for system administrators and advanced PC enthusiasts who want to venture into the world of virtualization. Knowledge of server operative systems, LAN, and networking is assumed. Having a good background of server administration such as networking services is desirable but not required.
Book Details
Paperback: 58 pages
Publisher: Packt Publishing (February 2013)
Language: English
ISBN-10: 1782179976
ISBN-13: 978-1782179979
Download [9.1 MiB]