web2py Application Development Cookbook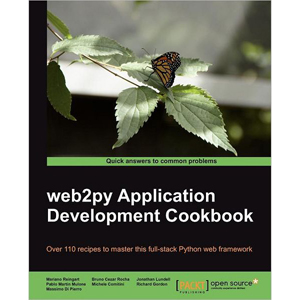 web2py is a free open source full-stack framework for rapid development of fast, scalable, secure and portable database-driven web-based applications. It is written and programmable in Python, and straightforward to run. web2py implements Model-View-Controller design, server-side form validation, and postbacks that make the code more readable, scalable, and maintainable. Are you familiar with web2py, and interested in gaining more advanced knowledge?
web2py Application Development Cookbook gives you the necessary knowledge to make you a web2py expert. Right from teaching you about the database abstraction layer to adding AJAX effects to recipes about recipe, the book will make you a master of web2py through advanced practical recipes without any drudgery or straining the brain.
web2py Application Development Cookbook is the tool you will need to expand and enhance your web2py skills.
This book begins with teaching you running web2py in various different systems followed by building simple applications. It focuses on database abstraction layer next and then explains building advanced forms. Adding stunning AJAX effects, using third party libraries and recipes on web services follow. Advanced recipes on authentication and authorization are taught and then routing and reporting recipes claim your attention. There is a final wrap-up with useful, interesting tips and tricks which you will really enjoy.
In short, this book will make you an expert in web2py in a trouble-free, quick, and easy manner.
What you will learn from this book
Install web2py on windows from source code and run it on Apache, Lighttpd, and Nginx servers
Build simple applications such as a contacts applications and a facebook clone
Create a new model and batch upload your data
Embed multiple forms in one page and create multi-table forms
Improve the built-in AJAX function and AJAXify your search functions
Generate PDF reports and charts
Consume JSON service and integrate Paypal with web2py
Debug with eclipse and PyDev, learn to build your own plugin
Approach
This is a cookbook and you may read the chapters in any order. The recipes need not be read sequentially. There are a good amount of code examples and relevant screenshots to ease learning pains.
Who this book is for
The target audience are Python developers with basic knowledge of web2py who want to gain further knowledge of web2py.
Book Details
Paperback: 364 pages
Publisher: Packt Publishing (March 2012)
Language: English
ISBN-10: 1849515468
ISBN-13: 978-1849515467
Download [17.3 MiB]