Visual Stories: Behind the Lens with Vincent Laforet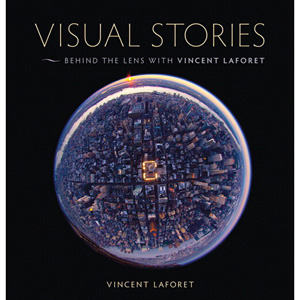 There is an art to capturing a photo that tells a story. You need to know what belongs in the frame and what to leave out, what to emphasize in the photo that adds to the story, and how to use light, shape, and color all to express meaning while lending aesthetic value to the image itself. Vincent Laforet–Pulitzer Prize-winning photographer and voted one of the "100 Most Influential People in Photography" by American Photo–gives a rare look into the art of photography through his lens as a master editorial and commercial photographer.
This beautiful book contains full-color spreads, with scene details and technical information to help tell the visual stories of larger-than-life life events such as Hurricane Katrina, the Olympic Games, and the war zone of Pakistan. With over 100 photos included, you will gain important insights into how you can achieve similar looks—blending what the camera does with the stories you want to tell.
Learn how the principles of photojournalism can be applied to telling stories with a single image.
Use light, shape, and color to create rich photos that tell the story as well as add sensitivity to beauty and emotion.
Learn how the relationship between foreground and background can be used to creatively produce images with strong impact, and choose lenses based on this discovery.
Understand the value of an image and convey a more in-depth story of the subject in any genre of photography, including landscapes, close-ups, portraits, action shots, aerials, and more.
Receive an up-close and personal view of the author and his work by watching over 60 videos on the accompanying DVD.
Review
"Visual Stories blends art, meaningful technical know-how and thoughtful discussion on the role and power of photography to make an impact on society. It's one of the best photography books I've seen."
-Christopher Robinson, Editor, Digital Photo Pro Magazine
"Once in a while a Creative comes along who's body of work causes anyone who sees it to stop in their tracks. That's the gift that Vincent Laforet has given us here. Life Through the Lens with Vincent Laforet is an inspiring gift that demands to be on your bookshelf (virtual or otherwise)."
-Dane Sanders, Photographer & Writer, DaneSanders.com
"99% of the process happens before you even get the opportunity to press the button. As much as anything else, Visual Stories is about that process. It is about previsualizing, planning, cajoling, persevering — and whatever else it takes to transport an image from your mind's eye into print."
-Scott Bourne, Photographer & Writer, Photofocus.com
"Visual Stories will be an instant classic. It is well written and is an easy read for photographers of every level. It contains over 100 of the author's photos with information on the shot as well as the technical camera settings used. Also included with Visual Stories is a DVD that contains 60 videos that provide a personal view of the author and his work. Here he explains in more detail about his work and how he captured his images. If you want to see into the mind of an award winning photographer and learn from his experiences then I very highly recommend Visual Stories."
-T. Michael Testi, Seattle Post Intelligencer / Blog Critics
Book Details
Paperback: 264 pages
Publisher: New Riders Press (November 2011)
Language: English
ISBN-10: 0321793927
ISBN-13: 978-0321793928
Download [19.9 MiB]