Composition Photo Workshop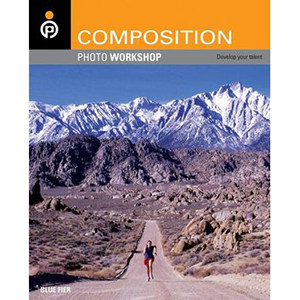 The hands-on instruction that digital photographers need to compose great shots
Introducing readers to the basic elements of design, this full-color guide shows photographers step by step how to frame great compositions before they take the shot. Instructions, advice, examples, and assignments cover all types of photography.
From the Back Cover
DISCOVER HOW TO COMPOSE THE PERFECT SHOT.
How to compose a photograph can determine what your image communicates. Blue Fier is a master of composition technique, and the advice he shares in this essential book teaches you to bring together subjects, lighting, color, depth of field, and design elements to produce photos that make powerful statements. Study the techniques, complete the assignments, gather feedback at photoworkshop.com, and watch what develops.
Understand how we see and how composition impacts the eye
Learn how shutter speed, lighting, and depth of field affect composition
Control colors and understand their symbolism
Master the elements of design
Discover special techniques for people, travel, and still lifes
Table of Contents
Chapter 1. Understanding Composition
Chapter 2. The Elements of Design
Chapter 3. Depth of Field Decisions
Chapter 4. Slicing Time. Designing with Shutter Speeds
Chapter 5. Capturing Light
Chapter 6. Working with Color
Chapter 7. Thinking in Black and White
Chapter 8. Arranging Appealing Portraits
Chapter 9. Travel and Scenic Photography
Chapter 10. Still-Life and Close-Up Photography
Chapter 11. Improving Your Images
Book Details
Paperback: 272 pages
Publisher: Wiley (July 2007)
Language: English
ISBN-10: 0470114363
ISBN-13: 978-0470114360
Download [220.2 MiB]