Using Mac OS X Lion Server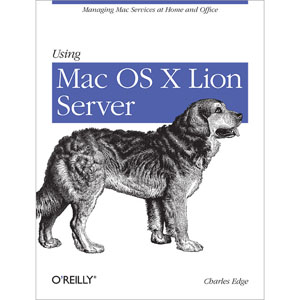 If you're considering a Mac OS X server for your small business, school, nonprofit, or home network, this easy-to-follow guide will help you get up and running in no time. You'll learn how to share files, mail, and calendar information on your desktops, iPads, iPhones, and other devices, whether you're new to Mac OS X servers or need to update your skills for the Lion edition.
Discover how to configure your network to include multiple operating systems—including Mac, iOS, and Windows—and set up servers for wikis, websites, and podcasts with relative ease.
Plan your installation to make sure you have the right server hardware
Control data access with permissions, and use Apple's Time Machine to back up your network
Share contacts, schedules, and instant messaging with groupware
Manage wikis, blogs, and websites with Lion's web service
Build an email server and protect it against spam and malware
Handle preferences for the network's Apple computers and iOS devices
Deploy new Apple computers to the network with disk imaging
Table of Contents
Chapter 1. Planning
Chapter 2. Installation
Chapter 3. Sharing and Backing Up Files
Chapter 4. Sharing Address Books, Calendars, and iChat
Chapter 5. Wikis, Webs, and Blogs
Chapter 6. Building a Mail Server
Chapter 7. Building Your Own Podcasting Server
Chapter 8. Managing Apple Computers and iOS Devices
Chapter 9. Network Services
Chapter 10. Deploying Mac OS X Computers
Book Details
Paperback: 220 pages
Publisher: O'Reilly Media (March 2012)
Language: English
ISBN-10: 1449316050
ISBN-13: 978-1449316051
Download [33.4 MiB]