Oracle SOA Governance 11g Implementation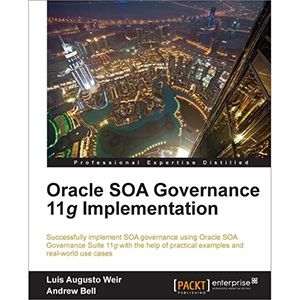 Service-oriented Architecture (SOA) is an architectural style created to address the challenges posed by today's highly distributed, fast-paced computing. This goal is achieved by constructing business-focused software systems from loosely coupled, interoperable building blocks called Services. Organizations often fail to successfully implement SOA due to a lack of effective governance. Oracle SOA Governance is a comprehensive, service-orientated architecture governance solution that is designed to make the transition to SOA easier.
"Oracle SOA Governance 11g Implementation" illustrates how to successfully implement SOA governance in your organization. To achieve this, we describe how goals and objectives need to be clearly laid out and used to align governance processes with governance tools, governance tools with people, and people with the different roles and responsibilities that are required to implement effective governance.< p>
"Oracle SOA Governance 11g Implementation" begins with a short but concise overview of SOA governance. We then go to explore real world examples, based on previous experiences and working solutions, in order to learn the concepts of Oracle SOA Governance Suite.
We will also learn how to implement an OER-centric SDLC process to address your organizations design-time governance requirements. Next, we will explore OSR, and discover how to use it to expose service implementations to consumers based on UDDI concepts. We will explore the features available within Web Service Manager (WSM), Oracle Enterprise Manager (OEM), and Business Transaction Manager (BTM). Finally, we discover how OER can be extended to govern Oracle Application Integration Architecture (AIA) implementations.
Discover and learn how to use Oracle SOA Governance Suite to address your specific design-time and runtime governance challenges.
What you will learn from this book
Define the key goals and objectives for SOA governance and assess the current SOA maturity level within your organization
Understand the key challenges faced by organizations prior to implementing SOA governance, and learn the benefits of a successful implementation
Discover Oracle Enterprise Repository product architecture and understand its key features, components, and constraints
Work with the Asset Editor, categorize Assets, and create Asset Types
Make use of OER IDE plugins, OER policies, and OER registration workflows to enforce quality gates and governance policies
Explore Oracle Service Registry product architecture and understand its key features, components, and constraints, and how to deploy it and use it effectively with OER
Promote services between different environments using the OER and OSR integration capabilities and expose available services to both internal and external parties
Implement basic runtime governance with Web Service Manager and Oracle Enterprise Manager
Approach
A comprehensive, practical guide to successfully implementing a complete SOA governance solution by employing Oracle SOA Governance Suite.
Who this book is for
If you are an enterprise architect, solution architect, technical architect, or SOA consultant who wants to successfully implement SOA governance using the Oracle SOA Governance Suite product, then this book is for you. The book does not assume practical experience in implementing the Oracle SOA Governance Suite, however previous experience and/or exposure to the Oracle SOA Suite 11g and general knowledge of SOA governance would be helpful.
Book Details
Paperback: 440 pages
Publisher: Packt Publishing (September 2013)
Language: English
ISBN-10: 1849689083
ISBN-13: 978-1849689083
Download [43.0 MiB]