Troubleshooting and Maintaining Your PC All-in-One For Dummies, 2nd Edition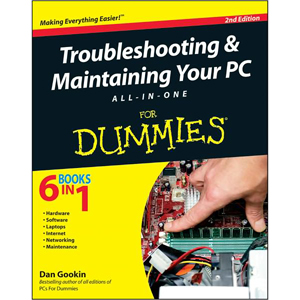 Diagnose and solve your PC problems with this easy-to-understand guideWritten by veteran For Dummies author Dan Gookin, this straightforward guide shows you how to diagnose and solve the most common hardware and software problems your PC may encounter. In addition, he presents advice for preventing PC problems in the first placeand clearly explains how to create a safe and secure PC environment.
Walks you through ways to diagnose the most common PC hardware, software, and operating system problems
Offers clear and easy-to-understand solutions for confidently handling these problems
Shares valuable advice about maintaining your system to maximize its lifespan
Reviews an array of useful tools
Covers Windows Vista, Windows 7, and Internet Explorer 8
Troubleshooting & Maintaining Your PC All-in-One For Dummies, 2nd Edition helps you to confidently handle whatever PC problems you may encounter.
From the Back Cover
PC on strike? Let Dan Gookin show you how to fix your PC problems — and prevent new ones!
Dan Gookin helps you get things back on track, and he shows you how different PC problems often have similar origins. He also guides you through proper maintenance steps that can head off future headaches. Discover what makes that magical machine tick and how to keep it happy!
Maintain happy hardware — resolve start-up and shutdown issues and problems with peripherals while adding a little pep to your PC
Power to the laptop — manage power and battery issues, keep it clean, and learn laptop travel safety
Cure Internet insanity — make peace with Internet Explorer, explore other browsers, troubleshoot email problems, and protect your PC
Network for success — solve problems with routers, modems, workgroups, and wireless issues
More geeky stuff — repartition drives, schedule tasks, and venture inside the case
Open the book and find:
Solutions for Windows 7, Vista, and XP
What some common error messages mean
Built-in Windows tools that help solve problems
Why your laptop needs a good warranty
URLs for useful video tutorials
Translations of terms like NIC, DCHP, and FTP
How to back up files, programs, and your entire PC
A guided tour of what's inside the console
Visit the companion web site at www.dummies.com/go/troubleshootingandmaintainingyourpcaio2e for videos and other examples from the book.
6 Books in 1
Hardware
Software
Laptops
Internet
Networking
Maintenance
Book Details
Paperback: 792 pages
Publisher: For Dummies; 2nd Edition (June 2011)
Language: English
ISBN-10: 0470878673
ISBN-13: 978-0470878675
Download [26.1 MiB]