The Social Styles Handbook, Revised Edition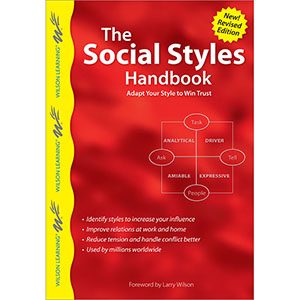 More than two million people use Social Styles and Versatility skills to improve communication and relationships. Learn which Social Style you naturally prefer, how to read others' styles, and then adapt to them so you can build trust and influence more quickly. Proven, powerful life-changing tools for immediate impact at work and home.
Why do you connect easily with some people, and find others more difficult? It's because you have a natural affinity in expressing yourself with about 25% of all people, and less with 75%. The secret of successful communications and relationships is in knowing how to behave with the 75%! Learn your Social Style (Analytical, Driver, Amiable, Expressive) and what people of all four styles expect. Practice adapting your behavior to make others comfortable. Gain tools for handling conflict and tension correctly so you get back to productive work faster. Used by two million people for nearly 40 years, at work and at home, for making relationships richer and more fulfilling.
Table of Contents
SECTION 1: THE CASE FOR COMMUNICATION
1. Introduction
2. Mindset Matters
SECTION 2: DIMENSIONS OF SOCIAL STYLES
3. A New View of Behavior
4. Assertiveness and Responsiveness – The Measures of Behavior
5. Versatility – Adapting Your Style
6. Task and Relationship Tension – Productive or Unproductive?
7. Comfort – The Key to Trust and Confidence
8. Habit – Getting Beyond Comfort and Custom in Communication
9. Generalizing and Judging – Pros and Cons
10. Back-Up Behavior – Fight or Flight
11. Building Relationships – Entry, Dialogue and Closure
12. The Social Style Self-Profiler
SECTION 3: SOCIAL STYLES IN DEPTH
13. Living and Working with Analyticals
14. Living and Working with Drivers
15. Living and Working with Amiables
16. Living and Working with Expressives
SECTION 4: LESSONS FROM SOCIAL STYLES EXPERTS
17. Speeding Up the Learning Curve
Book Details
Paperback: 192 pages
Publisher: Nova Vista Publishing (June 2012)
Language: English
ISBN-10: 1457167867
ISBN-13: 978-1457167867
Download [6.1 MiB]