Investing with Volume Analysis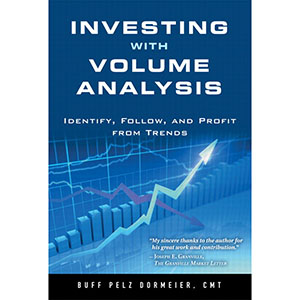 "I found Investing with Volume Analysis of great interest. Any new study of volume and its great technical importance demands immediate attention. It is good to have Buff's new ideas and discoveries added to the history and importance of volume in technical analysis. My sincere thanks to Buff for his great work and contribution."
—Joseph E. Granville, The Granville Market Letter
"The author has gathered in one place all the major methods and theories that deal with volume in the stock market and has recognized volume as an equal partner with price in the workings of market and stock movements. He puts it all together into usable and readable guidance, using effective analogies and occasional humor."
—Richard W. Arms, Jr., Arms Advisory
"Buff presents a thorough discussion of the utility of volume and volume-based market indicators, both traditional and of his own creation. Fellow market analysts can be glad for this resource and the fact that the VPCI on Buff himself is in a strongly rising trend."
—Robert Prechter and Dave Allman, Elliott Wave International
"I really enjoyed and appreciated the author's ability to combine volume with many of the basic indicators used by technicians today."
—Ralph J. Acampora, CMT, Managing Director, Altaira Investment Solutions
"I trade for a living and don't have time for fluff and puff. Buff tossed facts and figures in my face like a silver cross in front of a vampire. He is on to much here, as you will see. This book is not a morsel; it's a nine-course meal. Dig in."
—Larry Williams, Private Trader, World Cup Trading Champion
"For every stock trade that takes place, three key pieces of information are recorded: price, time, and size. It is from these three pieces of data that we derive all the key information that technical analysts use to examine a stock's behavior. If you are only looking at prices, then you are throwing out a whole lot of key information.
Buff's book teaches you how to take that information about the size of trades and turn it into the seven types of volume indicators. Better still, he teaches you how to use those tools to improve your own trading."
—Tom McClellan, Editor, The McClellan Market Report
If price is the market's testimony, then volume is the market's polygraph. More than any other indicator, volume tells you the real force and extent of investors' convictions about prices. By analyzing the market's volume-oriented "lie detector tests," you can uncover trends sooner with more reliability–and thus be better positioned to capture the profits those trends might deliver.
In Investing with Volume Analysis, award-winning technical analyst Buff Dormeier reveals how volume validates, interprets, and leads price. Using volume analysis, you'll learn to uncover surprising shifts in investor enthusiasm, identify disparities in market opinion, and sniff out coming trend reversals.
Dormeier reviews many traditional volume indicators, introduces his own groundbreaking approaches, and shows you exactly how to apply them. You'll learn how to assess strength and weakness in both supply and demand; identify common market narratives buried beneath volume data; integrate volume analysis with other portfolio allocation techniques; and much more.
Volume analysis speaks volumes. Read this book and discover what the market has been telling you if only you had turned on the volume!
Volume: what it says that you can't learn any other way
Uncover the market's true convictions about present prices
Apply the classical laws of motion in securities analysis
Achieve more profitable trading strategies
Is market movement accelerating– or is it about to halt and reverse?
Use volume analysis to evaluate the "state of the trend"
Go beyond standard volume analysis by discovering new breakthrough techniques
Buff up your market analysis with Capital Weighted Volume and overcome volume distortions while improving visibility
Book Details
Hardcover: 352 pages
Publisher: FT Press (March 2011)
Language: English
ISBN-10: 0137085508
ISBN-13: 978-0137085507
Download [15.4 MiB]