The Encyclopedia of Operations Management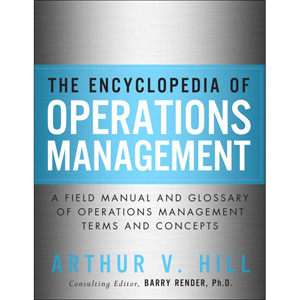 This is the perfect "field manual" for every supply chain or operations management practitioner and student. The field's only single-volume reference, it's uniquely convenient and uniquely affordable. With nearly 1,500 well-organized definitions, it can help students quickly create an integrated mental map of the entire field, and prepare for case discussions, exams, and job interviews. For instructors, it serves as an invaluable desk reference and teaching aid that goes far beyond typical dictionaries. For working managers, it offers a precise shared language, with insights for making their processes better, faster, cheaper, and stronger; and for supporting any Six Sigma, Lean, or Lean Sigma training program. Leading expert Arthur V. Hill provides complete coverage of accounting, customer service, distribution, e-business, economics, finance, forecasting, human resources, industrial engineering, industrial relations, inventory management, healthcare management, Lean Sigma/Six Sigma, lean thinking, logistics, maintenance engineering, management information systems, marketing/sales, new product development, operations research, organizational behavior/management, personal time management, production planning and control, purchasing, reliability engineering, quality management, service management, simulation, statistics, strategic management, systems engineering, supply chain management, supply management, theory of constraints, transportation, and warehousing. Multiple figures, graphs, equations, Excel formulas, VBA scripts, and references are designed to support both learning and application.
From the Back Cover
The Most Complete, Up-to-Date, Single-Volume Reference to Modern Operations and Supply Chain Management
This "field manual" is ideal for every manager and student who needs a deeper understanding of supply chain and operations management. It is also ideal for people in lean and Lean Sigma training programs who need to develop a more precise language for their process improvement efforts. The field's most comprehensive reference, it's both uniquely convenient and exceptionally affordable.
Leading expert Arthur V. Hill covers the entire field, offering nearly 1800 authoritative entries. Of these, more than one-third are new to this edition, and nearly another one-third have been completely rewritten. Packed with photos, figures, graphs, tables, examples, references, Excel formulas, and VBA scripts, The Encyclopedia of Operations Management is designed and organized for constant use. Students can use it to prepare for case discussions, exams, and job interviews and to quickly develop a mental map for the entire discipline. For instructors, it serves as an invaluable desk reference and teaching aid. Working managers can use it as a comprehensive training reference for both lean and Lean Sigma programs.
This book's comprehensive coverage includes:
Accounting
Customer service
Distribution
e-business
Economics/finance
Forecasting
Healthcare management
Human resources management
Industrial engineering
Industrial relations
Inventory management
Lean Sigma (Six Sigma)
Lean thinking
Logistics
Maintenance
Management information systems
Manufacturing management
Marketing/sales
New product development
Operations research
Operations strategy
Organizational behavior/management
Personal time management
Production planning and control
Purchasing/supply management
Quality management
Reliability engineering
Service management
Simulation
Sourcing
Statistics
Supply chain management
Systems engineering
Theory of Constraints
Transportation
Warehousing
Book Details
Paperback: 408 pages
Publisher: FT Press (July 2011)
Language: English
ISBN-10: 0132883708
ISBN-13: 978-0132883702
Download [22.5 MiB]