Quicken 2013 For Dummies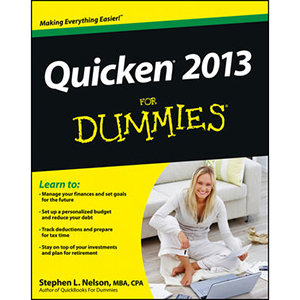 Get your finances in order quickly with this completely updated Quicken guide!
In this newest edition of his perennial favorite guide, financial expert and bestselling author Stephen Nelson shows how taking control of your finances can be quick and effortless with Quicken, the number one personal finance software on the market. Providing you with a thorough introduction to all the latest features and enhancements to the newest version, Nelson shows you how to use the program to track your income and expenses, maximize savings, pay your bills, manage your investments, and balance your checkbook.
Whether you're a first-time Quicken customer or looking to take advantage of the updates the latest release has to offer, this guide offers a straightforward-but-fun approach to help you prepare for tax time, balance your budget, build a nest egg, track your investments, and more.
Veteran author Stephen Nelson updates his classic bestseller to cover the latest features in the number one personal financial management planning program
Shows you how set up Quicken to meet your individual needs, track your day-to-day finances, better manage your investments, boost your personal savings, be more responsible with your spending, keep an eye on your mortgages and loans, tackle debt, and more
Presents a fun and friendly approach to a topic that many people find intimidating or overwhelming
Quickly and easily helps you take control of your personal finances
Quicken "X" For Dummies will help you take control of your dough, whether you?re a seasoned penny pincher or just starting to save!
From the Back Cover
Where does it all go? Take control of your personal finances with Quicken — and this handy guide!
Keeping track of your money is so important these days. With this plain-English guide, you'll find out how to use Quicken to monitor your income and expenses, pay your bills, pay your taxes, and plan for the future. Whether you're new to Quicken or upgrading from a previous version, this book makes it easy!
Setting up shop — install Quicken 2013, set up your accounts, and synchronize it with your financial institutions
Calculating genius — prepare for your future with Quicken's financial planning calculators
Where does it all go? — follow cash flow, income and expenses, investing activity, and more with Quicken's ready-made reports
Balancing act — reconcile your bank accounts, use online banking, and simplify all your financial housekeeping
Grow that nest egg — nurture your investments by keeping close tabs on your 401(k), IRA, stocks, and bonds
Get down to business — capture your business and personal expenses in one place and track how your business is doing
Get a tax break —Quicken's records ease the pain of preparing your taxes
Your secret plan — design a realistic budget and let Quicken help you stick to it
Open the book and find:
Steps to install and set up Quicken
Advice for banking and paying bills online
Tools for calculating loans, college costs, and retirement
Advice on creating your "secret budget plan"
Tips for managing small business finances
How to keep your information safe and secure
Steps for managing mortgages, loans, and other debt
Ways to list deductions and plan for tax time
Learn to:
Manage your finances and set goals for the future
Set up a personalized budget and reduce your debt
Track deductions and prepare for tax time
Stay on top of your investments and plan for retirement
Book Details
Paperback: 384 pages
Publisher: For Dummies (October 2012)
Language: English
ISBN-10: 1118356403
ISBN-13: 978-1118356401
Download [7.8 MiB]