Control Your Retirement Destiny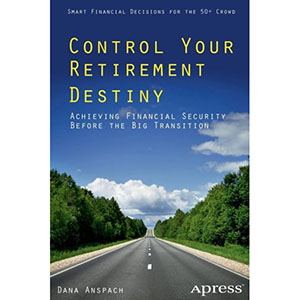 "It is a rare pleasure to read a book on personal finance with which I agree completely. Dana Anspach has produced one. I am usually turned off by the chapter on investing, which is typically false and misleading. Investing should always start from the safest strategy to achieve one's goals. Dana Anspach gets it right and expresses it in entertaining prose that anyone can understand and enjoy."
—Zvi Bodie, Professor of Economics, Boston University
People in their fifties start to wonder: When should I retire? Once I do, when should I take Social Security? Do I need to buy an annuity to make sure I have enough money to last my whole life? Should I move everything into Treasury Bills and other "safe" investments? In short, what do I need to do now to ensure a comfortable retirement in five or ten years?
Control Your Retirement Destiny: Achieving Financial Security Before the Big Transition provides practical, how-to knowledge on what you need to do to get your finances in order to prepare for a transition out of the workforce. While never easy, retirement investing in your 20s to your early 50s has been straightforward. But as you get closer to the big event—retirement—it takes a different kind of planning to align investments, retirement accounts, taxes, Social Security, and pension decisions, all for a single objective: providing reliable, life-long income. Control Your Retirement Destiny teaches you how each part works, how one decision affects another, and–most importantly–how to focus on the items you can control rather than on the items you can't. When you put it all together in a plan that works for you, you'll have more choices and a greater sense of security about the financial decisions you are making.
Transitioning out of work is scary. Control Your Retirement Destiny equips you with the knowledge you'll need to make sure you've thought of everything. When your finances and your future intersect, you'll be ready. This book:
Covers all the major topics in retirement planning—investments, Social Security, annuities, taxes, healthcare, part-time work, and more.
Illustrates which items you can control, and how to focus on them.
Provides examples of how planning decisions can result in a more secure outcome when they are coordinated.
Provides actionable knowledge about important money decisions faced by upcoming retirees.
Control Your Retirement Destiny enables you to take charge of your financial future right now to ensure a happy, financially secure retirement.
What you'll learn
You will be able to:
Apply an improved and coordinated process to make better financial decisions
Focus on items within your control like tax management, risk management, and developing and sticking with a plan
Determine how much investment risk you should take
Decide if you need guaranteed income, and if so, how to buy it
Choose investments that are best suited to meet your future income needs
Avoid big retirement planning mistakes
Find sources of reliable information
Who this book is for
Control Your Retirement Destiny: Achieving Financial Security Before the Big Transition is for men and women who are 50-plus, have money in 401(k)s and IRAs and other assets, and are beginning to think about when and how they might transition out of regular, full-time work. They are wondering when to start Social Security, how to choose investments that will provide security, how to account for medical costs and taxes in retirement, and most importantly, how to put all of these things together into a plan that ensures financial security. Readers will be in the top 50% of the population in terms of income and assets, age 50+, do-it-yourself investors, index investors, or investors who aren't getting the answers they need from their current broker, advisor, or mutual fund company.
Table of Contents
Chapter 1. Your Finances
Chapter 2. Starting with Planning Basics
Chapter 3. Social Security
Chapter 4. Investing
Chapter 5. Taxes
Chapter 6. Insurance, Life, and Disability
Chapter 7. Using Your Company Benefits
Chapter 8. Should You Buy an Annuity?
Chapter 9. Real Estate and Mortgages
Chapter 10. Managing Health Care Costs in Retirement
Chapter 11. Working Before and During Retirement
Chapter 12. Whom to Listen To
Book Details
Paperback: 328 pages
Publisher: Apress (April 2013)
Language: English
ISBN-10: 1430250224
ISBN-13: 978-1430250227
Download [9.5 MiB]