The Agile Architecture Revolution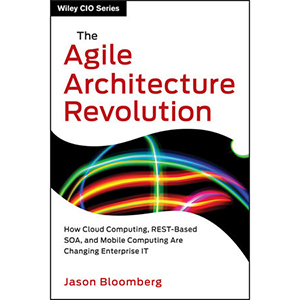 A sneak peek at up-and-coming trends in IT, a multidimensional vision for achieving business agility through agile architectures
The Agile Architecture Revolution places IT trends into the context of Enterprise Architecture, reinventing Enterprise Architecture to support continuous business transformation. It focuses on the challenges of large organizations, while placing such organizations into the broader business ecosystem that includes small and midsize organizations as well as startups.
Organizes the important trends that are facing technology in businesses and public sector organizations today and over the next several years
Presents the five broad organizing principles called Supertrends: location independence, global cubicle, democratization of technology, deep interoperability, and complex systems engineering
Provides a new perspective on service-oriented architecture in conjunction with architectural approaches to cloud computing and mobile technologies that explain how organizations can achieve better business visibility through IT and enterprise architecture
Laying out a multidimensional vision for achieving agile architectures, this book discusses the crisis points that promise sudden, transformative change, unraveling how organizations' spending on IT will continue to undergo radical change over the next ten years.
Table of Contents
Part I: Enterprise as Complex System
Chapter 1. Introducing Agile Architecture
Chapter 2. Shhh, Don't Tell Anyone, but Let's Talk about Service-Oriented Architecture
Chapter 3. Governance: The Secret to Satisfying the Business Agility Meta-Requirement
Chapter 4. The Enterprise as Complex System
Chapter 5. Agile Architecture in Practice
Part II: The ZapThink 2020 Vision
Chapter 6. You Say You Want a Revolution . . .
Chapter 7. The Democratization of Enterprise IT
Part III: Implementing Agile Architecture
Chapter 8. Deep Interoperability: Getting REST Right (Finally!)
Chapter 9. Finally, Let's Move to the Cloud
Chapter 10. Can We Do Agile Enterprise Architecture?
Book Details
Hardcover: 280 pages
Publisher: Wiley (February 2013)
Language: English
ISBN-10: 1118409779
ISBN-13: 978-1118409770
Download [1.4 MiB]