Be Money Smart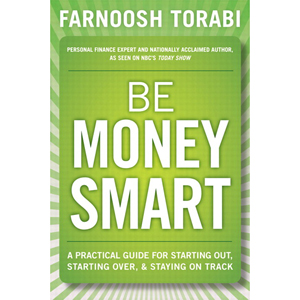 Personal expert and media star shows how to develop the mindset, discipline, and attitude to become financially secure without fear or anxiety. Farnoosh Torabi combines money smarts with real attitude! She shows you how to build a healthier relationship with money… map a plan based on what you care about… and get on track and stay there!
As seen on the NBC TODAY Show, Live! With Regis and Kelly, MSNBC Dayside with Chris Jansing, and in US News and World Report and the Chicago Tribune.
Named one of Library Journal's Best Business Books of 2010.
Table of Contents
Preface
Introduction
Part I: Draft Your Financial Blueprint
Chapter 1. Personalize Rich
Chapter 2. Establish Goals
Chapter 3. Craft Your Money Philosophy
Chapter 4. Embrace Your Relationship with Money
Part II: Psych It Up
Chapter 5. Organize. Don't Agonize
Chapter 6. Be Your Biggest Advocate
Chapter 7. Make Your Money Count
Chapter 8. Think Five Years Ahead
Part III: Raise the Bar
Chapter 9. Break from the Norm
Chapter 10. Embrace the Entrepreneurial Spirit
Conclusion
Index
Book Details
Paperback: 224 pages
Publisher: FT Press (October 2011)
Language: English
ISBN-10: 0132888068
ISBN-13: 978-0132888066
Download [2.7 MiB]