Teach Yourself VISUALLY Mac OS X Lion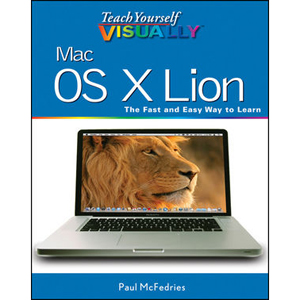 Visual learners will quickly see how to take full advantage of Mac OS X Lion
The latest Mac desktop operating system adds iPad functionality, a desktop App Store, and many more cool features. This guide combines step-by-step instructions with full-color illustrations to show visual learners how to take advantage of everything Lion has to offer. Plenty of screen shots show you just what to expect at every step, so you can get going quickly whether you're new to the Mac or upgrading from an earlier OS.
Reviews how Lion incorporates all-new features including a multi-touch trackpad, Mission Control, App Store functionality for the desktop, and more
Aims specifically at those who learn best when they see how things are done, with step-by-step instructions and full-color illustrations showing exactly what each step looks like
Shows both new Mac users and those upgrading from an earlier Mac OS how to get going with OS X Lion, use all the iLife digital media applications, customize the desktop, and make the most of the latest features
If you learn more quickly when someone shows you how it's done, this is the perfect Mac OS X Lion guide for you.
From the Back Cover
Are you a visual learner? Do you prefer instructions that show you how to do something — and skip the long-winded explanations? If so, then this book is for you. Open it up and you'll find clear, step-by-step screen shots that show you how to tackle more than 150 OS X Lion tasks. Each task-based spread covers a single technique, sure to help you get up and running on OS X Lion in no time.
You'll learn to:
Play music and make movies or DVDs
Use Launchpad and Mission Control
Communicate via e-mail or FaceTime®
Connect an iPod®, iPhone®, or iPad®
Network with OS X Lion
Designed for visual learners
Two-page lessons break big topics into bite-sized modules
Succinct explanations walk you through step by step
Full-color screen shots demonstrate each task
Helpful sidebars offer practical tips and tricks
Book Details
Paperback: 352 pages
Publisher: Wiley (August 2011)
Language: English
ISBN-10: 1118022416
ISBN-13: 978-1118022412
Download [66.8 MiB]