Take Control of iPhone Basics, iOS 4 Edition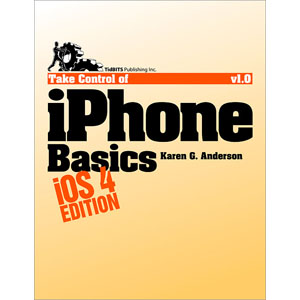 You can take control of iPhone basics (and beyond) with former Apple writer Karen G. Anderson. Join Karen as she helps you decide which iPhone – including the Verizon iPhone 4 – to purchase, discusses common accessories, and explains how to handle basic startup tasks. You'll learn about power management, and how to connect to the Internet, set up a Bluetooth headset, transfer songs and other media from a computer, create a security passcode, and make folders to hold an expanding app collection. You'll also receive help with syncing calendar events and contacts, and buying apps.
Karen takes you on a tour of the important default apps that come from Apple, so whether you want to understand the mechanics of receiving and placing a phone call, check for voicemail from your boss, run a FaceTime call with your cousin, take a photo and send it to your Mom, play Game Center games with your friends, listen to a podcast, map a route to your next appointment, or match certain contacts to specific ringtones, you'll find help and advice.
This ebook covers the iPhone 3G, 3GS, and 4, including the Verizon iPhone 4.
Find answers to these basic questions:
What is the purpose of the slots and buttons on my iPhone?
How do I connect my iPhone to a computer, and why would I want to?
How do I turn my iPhone on, and what if it doesn't?
How do I control the touchscreen with my fingers?
How do I answer and "hang up" the phone?
Get help with basic setup tasks including:
Connect to networks.
Customize your voicemail greeting.
Set up your email accounts.
Use the Safari Web browser while maintaining your personal security.
Move Web bookmarks from your computer to Safari.
Transfer songs and podcasts to your iPhone.
Set up a Game Center account and invite friends to play with you.
Sync calendar and address book info between your computer and your iPhone.
Customize the image on your iPhone's screen.
Here's a sample of things you'll learn how to do:
Organize app icons into folders.
Quickly switch to a recently opened app.
Place a call using your voice to "dial" instead of your finger.
Make a FaceTime video call.
Turn your iPhone into an alarm clock.
Look up a date on your calendar.
Take a photo and email it to a friend.
Get directions and determine which way you're headed.
Quickly access the iPod playback controls.
Find your apps and other information on the iPhone.
Shop for third-party apps, share them your family, and keep them updated.
Create or buy ringtones, sync them with your computer, and assign them to contacts.
Book Details
Paperback: 146 pages
Publisher: TidBITS Publishing, Inc. (February, 2011)
Language: English
ISBN-10: 1-615420878
ISBN-13: 978-1615420872
Download [5.0 MiB]