Take Control of iPad Networking & Security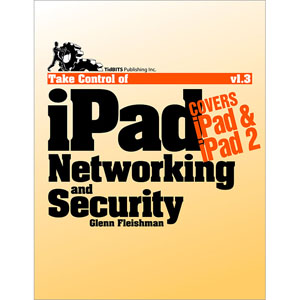 Once you move beyond connecting to a simple home Wi-Fi network or using 3G data, you'll want to read networking expert Glenn Fleishman's discussion of how to integrate your iPad into more-complex networks and keep its data safe from prying eyes. Along with offering advice about Wi-Fi and 3G connections, Glenn explains how to protect your data in transit, and how to set up Bluetooth for various types of connections, including an iPhone personal hotspot, a wireless keyboard, and peer-to-peer pairing.
Covers iOS 4.3, original iPad and iPad 2, and GSM and CDMA.
"I am so very, very delighted with your coverage of the iPad. Previously I was always looking for answers in other manuals. None were complete like yours are. You answer the questions! Your manuals are so fantastic."—Dennis M.
Inside, you'll find advice and steps for how to:
Set up an iPhone personal hotspot so that you can put any iPad on the Internet.
Connect to a Wi-Fi network at work, home, or when at a public hotspot.
Tweak a Wi-Fi network to give your iPad a faster connection.
Connect to Wi-Fi using secure connections—learn about the security pros and cons of MAC address filtering, WEP, WPA, WPA2, and VPNs.
Connect with 3G: This topic is most detailed in its discussions of plans from AT&T and Verizon Wireless in the United States, but it also takes a global perspective, with brief details about some data plans outside the United States and what to consider when traveling to a different country with your iPad.
Monitor and limit 3G data usage to save on your data plan.
Connect to Bluetooth peripherals such as keyboards and headsets, and do tethering and peer-to-peer pairing.
Understand what's at risk and protect the private passwords, documents, and data stored on your iPad.
Take preventative action: Get ideas for installing third-party remote-tracking software and turn on Apple's Find My iPhone.
Find out how to use Find My iPhone if your iPad is lost or stolen.
Book Details
Paperback: 106 pages
Publisher: TidBITS Publishing, Inc. (June 2011)
Language: English
ISBN-10: 1615420541
ISBN-13: 978-1615420544
Download [6.5 MiB]