Puppet 3: Beginner's Guide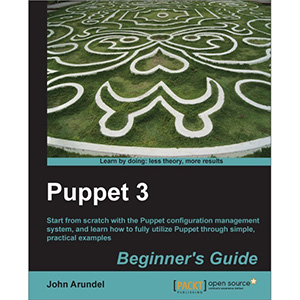 Everyone's talking about Puppet, the open-source DevOps technology that lets you automate your server setups and manage websites, databases, and desktops. Puppet can build new servers in seconds, keep your systems constantly up to date, and automate daily maintenance tasks.
"Puppet 3 Beginner's Guide" gets you up and running with Puppet straight away, with complete real world examples. Each chapter builds your skills, adding new Puppet features, always with a practical focus. You'll learn everything you need to manage your whole infrastructure with Puppet.
"Puppet 3 Beginner's Guide" takes you from complete beginner to confident Puppet user, through a series of clear, simple examples, with full explanations at every stage.
Through a series of worked examples introducing Puppet to a fictional web company, you'll learn how to manage every aspect of your server setup. Switching to Puppet needn't be a big, long-term project; this book will show you how to start by bringing one small part of your systems under Puppet control and, little by little, building to the point where Puppet is managing your whole infrastructure.
Presented in an easy-to-read guide to learning Puppet from scratch, this book explains simply and clearly all you need to know to use this essential IT power tool, all the time applying these solutions to real-world scenarios.
What you will learn from this book
Installing and configuring your Puppet environment
Running Puppet on multiple servers
Deploy configuration files and templates for lightning-fast installations
Creating and monitoring reports and information
Managing user accounts, security, access control, and scheduled jobs
Best practices for organizing your Puppet code using Git
Approach
Presented in an easy-to-follow, step-by-step tutorial format, Puppet 3 Beginner's Guide will lead you through the basics of setting up your Puppet server with plenty of screenshots and real-world solutions.
Who this book is for
This book is written for system administrators and developers, and anyone else who needs to manage computer systems. You will need to be able to edit text files and run a few commands on the command line, but otherwise no system administration or programming experience is required.
Book Details
Paperback: 204 pages
Publisher: Packt Publishing (April 2013)
Language: English
ISBN-10: 1782161244
ISBN-13: 978-1782161240
Download [2.5 MiB]