Tableau Data Visualization Cookbook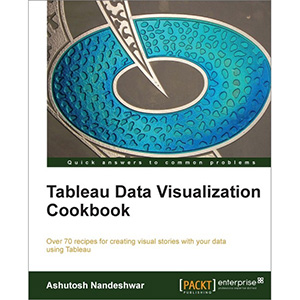 You know the feeling when you are asked to change or add a certain data point in your graph at the last minute. Usually, you have to scramble to complete the project and risk accuracy; this is not so with Tableau, however. Tableau is a revolutionary toolkit that lets you simply and effectively create high quality data visualizations.
"Tableau Data Visualization Cookbook" will show you the exact steps required to generate simple to complex graphics. Whether they are pie charts or box plots, you can create such graphics with ease and confidence; no more searching for scripts or laborious Excel hacks. This book will help you make the most of Tableau and show you how to finish your projects quicker using this toolkit.
In this book you'll start with getting your data into Tableau, move onto generating progressively complex graphics, and end with the finishing touches and packaging your work for distribution.
This book is filled with practical recipes to help you create filled maps, use custom markers, add slider selectors, and create dashboards. You will learn how to manipulate data in various ways by applying various filters, logic, and calculating various aggregate measures. Then, we will create animated graphs and provide search box and drop-down selectors to users. This book will help you to create stunning graphics in very short amount of time.
If you want to effortlessly create beautiful visualizations of data then "Tableau Data Visualization Cookbook" is for you!
What you will learn from this book
Forecast with trend lines
Manipulate and transform data
Import data from various sources
Create filled maps and use any shape file
Share your work easily
Create dashboards and scorecards
Format and finish the graphic
Observe statistical distributions
Approach
This Cookbook contains step-by-step instructions for Tableau users to create effective graphics. The book is designed in such a way that you can refer to it chapter by chapter; you can look at the list of recipes and read them in no particular order.
Who this book is written for
You'll gain the most from this book if you have basic understanding of various chart types and of their importance. Knowing when to employ a certain graphic will be equally useful. This book will get you up to speed if you just started using Tableau. You'll find this book useful if you spend a lot of time conducting data analysis and creating reports.
Book Details
Paperback: 172 pages
Publisher: Packt Publishing (August 2013)
Language: English
ISBN-10: 1849689784
ISBN-13: 978-1849689786
Download [14.6 MiB]