Design Is a Job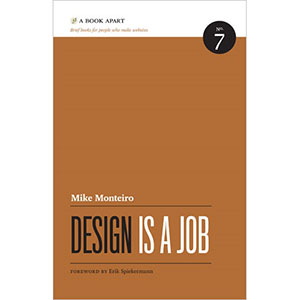 Co-founder of Mule Design and raconteur Mike Monteiro wants to help you do your job better. From contracts to selling design, from working with clients to working with each other, this brief book is packed with knowledge you can't afford not to know.
Table of Contents
Chapter 1. What Is a Designer?
Chapter 2. Getting Clients
Chapter 3. Choosing the Right Clients
Chapter 4. Charging for Your Work
Chapter 5. Working with Contracts
Chapter 6. Sticking to Your Process
Chapter 7. Presenting Design
Chapter 8. Managing Feedback
Chapter 9. Getting Your Money
Chapter 10. Working with Others
About the Author
Mike Monteiro is the co-founder and design director of Mule Design, an interactive design studio whose work has been called "delightfully hostile" by The New Yorker. He prefers elegant, simple sites with clear language that serve a real need. He prefers that designers have strong spines.
Mike blogs frequently about the craft and business of design. In early 2011, he gave a Creative Mornings talk entitled "F— You, Pay Me" that uplifted the downtrodden the world over, and he can be heard weekly as the co-host of Let's Make Mistakes with Katie Gillum. None of the terms Mike has coined are printable on a family website.
You can follow him on Twitter as @Mike_FTW, but we're not liable for what you'll see.
Book Details
Paperback: 135 pages
Publisher: A Book Apart (2012)
Language: English
ISBN-10: 1937557049
ISBN-13: 978-1937557041
Download [11.6 MiB]