SproutCore Web Application Development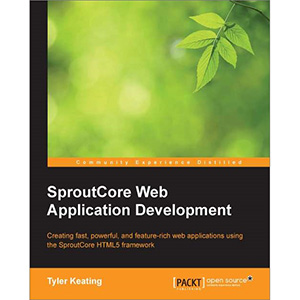 SproutCore is a framework that exists to allow developers to deliver on the promise of the Web with more than just simple attractive demos, but with complex software and remarkable user experiences. SproutCore's creators recognized early on that developing real web software requires the same software development tools and practices that have evolved over decades in the native software field and thus SproutCore brings these to the Web.
SproutCore Web Application Development is more than just a guide to one of the largest and most powerful web application frameworks out there, it's also a guide to writing genre defining web applications and solving the unique problems that the web platform creates. Containing the results of thousands of hours of software development experience, this book is invaluable for anyone already writing software for the Web or just starting out
SproutCore Web Application Development comprises of three sections. In the first section we introduce SproutCore and walk through a simple SproutCore application. From there, we look in detail at all of the main components of the framework before finally working through a rigorous real-world example from start to finish. Learning about SproutCore means learning about writing software for the Web. In this book, you will not only learn what sets SproutCore apart from other web libraries and frameworks, you will also learn about solving the difficult challenges that web development poses. We will look at all the components of an application and how to translate wireframes, mocks, and design descriptions into clean, efficient, and maintainable code using MVC, data adaptors, statecharts, and more. We will look at SproutCore's powerful binding and observing and watch how changes propagate across our app effortlessly and magically with very little code.
By the time you complete SproutCore Web Application Development, you'll be ready to develop your own application that redefines what it means to be a web application.
What you will learn from this book
Use SproutCore's object model to organize code into classes, subclasses, and mixins
Observe and bind properties across the code for efficient updates and error-free consistency
Structure code and separate responsibilities using client-side MVC
Define and build the user interface of extremely complex applications using SproutCore's view library
Interact with remote data sources and model and store data in the client for immediate use
Connect an application together without messy, bug-prone controller code using SproutCore's statechart library
Combine all of these skills in a repeatable process to create production-ready software
Test and deploy SproutCore applications
Approach
Written as a practical, step-by-step tutorial, SproutCore Web Application Development is full of engaging examples to help you learn in a practical context.
Who this book is for
This book is for any person looking to write software for the Web or already writing software for the Web. Whether your background is in web development or in software development, SproutCore Web Application Development will help you expand your skills so that you will be ready to apply the software development principles in the web development space.
Book Details
Paperback: 194 pages
Publisher: Packt Publishing (September 2013)
Language: English
ISBN-10: 1849517703
ISBN-13: 978-1849517706
Download [10.1 MiB]