FusionCharts: Beginner's Guide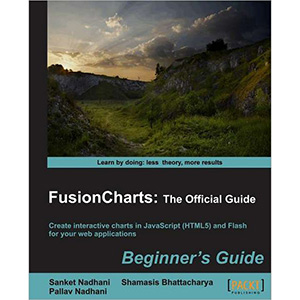 User experience can make or break any app these days, no matter whether it's a commercial product or an internal solution. While most web applications out there are boring and outdated when it comes to their charting, you can make yours both stunning and powerful using FusionCharts Suite. Once you have mastered it, you can give your users a delightful reporting experience in no time at all.
FusionCharts Beginner's Guide is a practical, step-by-step guide to using FusionCharts Suite for creating delightful web reports and dashboards. Getting you started quickly, you will learn advanced reporting capabilities like drill-down and JavaScript integration, and charting best practices to make the most out of it. Filled with examples, real-life tips and challenges, this book is the firstofitstype in the visualization industry.
The book teaches you to create delightful reports and dashboards for your web applications assuming no previous knowledge of FusionCharts Suite. It gets your first chart up in 15 minutes after which you can play around with different chart types and customize them. You will also learn how to create a powerful reporting experience using drill-down and advanced JavaScript capabilities. You will also connect your charts to server-side scripts pulling data from databases. Finally you round up the experience learning reporting best practices including right chart type selection and practical usability tips.
By the end of the book, you will have a solid foundation in FusionCharts Suite and data visualization itself. You will be able to give your users a delightful reporting experience, from developers to management alike.
What you will learn from this book
Create different charts like column, bar, line, pie, multi-series and combination, each of them in under 15 minutes
Render the chart in Flash and JavaScript, and provide data in XML or JSON
Customize the charts both aesthetically and functionally including background, font, chart limits, tooltips and use of multi-lingual characters
Add advanced reporting capabilities like drill-down and JavaScript integration to give your users a powerful reporting experience
Integrate the charts with PHP, ASP.NET, Java and any other server-side script pulling data from databases
Create interactive maps to plot geographical data like revenue by regions, election results and office locations on interactive maps using FusionMaps
Understand how to select the right chart for your data, and how to make them more usable with practical tips
Approach
The book is written as a practical, step-by-step guide to using FusionCharts Suite. The book not only teaches you the fundamentals and implementation of FusionCharts Suite, but also makes you the data visualization guru among your friends and colleagues by teaching how to select the right chart type and usability tips. Filled with examples, code samples and practical tips in a no-nonsense way, the book is a breeze to read.
Who this book is for
This book is both for beginners and advanced web developers who need to create interactive charts for their web applications. No previous knowledge of FusionCharts Suite is assumed, and the book takes you right from downloading it to creating complete reports and dashboards.
Book Details
Paperback: 252 pages
Publisher: Packt Publishing (April 2012)
Language: English
ISBN-10: 1849691762
ISBN-13: 978-1849691765
Download [19.9 MiB]