Social Media for WordPress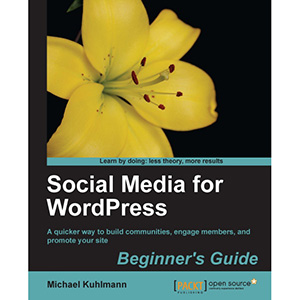 Social Media can help elect a U.S. President, transform the way we educate ourselves and drum up support for disaster relief. What lies beneath the two ominous buzzwords is not some secret game-changing technology but rather a new approach at forming relationships with your audience in real-time. Discover the power of online influence many already rely on.
Social Media for WordPress: A Quicker Way to Build Communities, Engage Members and Promote Your Site is a practical how-to guide on implementing social media marketing techniques to improve user retention and initiate engaging conversations. You'll learn how to leverage third-party services like Twitter, Yahoo! Pipes and Google Analytics as well as popular WordPress extensions like FeedWordPress, bbPress and BuddyPress.
This book introduces you to the powerful combination of WordPress and social media through a variety of plugins and free third-party services.
You'll learn how to create your own social network, utilize forums and rewards to stimulate interest. You'll also learn how to automate many marketing activities, so you can spend more time connecting with your audience.
Comprised of easy-to-follow tutorials and supplemental website, you'll understand how to implement social media strategies.
What you will learn from this book
Discover the fundamentals, misconceptions and basic implementations of social media as well as WordPress features to drive more site engagement
Roll out your social media layer with BuddyPress and add game-like capabilities to help you engage your site members
Create group forums using bbPress and BuddyPress, while automatically publishing WordPress posts to Twitter using RSS feeds
Incorporate memberships and make category-specific content restrictions applicable only to non-members
Implement Google Analytics to tracking your social media efforts and learn how to automatically email analytical reports
Easily maintain your site by automatically backing up your site and publishing posts via email
Automatically post tweets, so you can spend more time on genuine dialogues and less time on producing relevant tweets
Produce QR codes for your print collateral so you can improve the accessibility of the relationships you've built online
Approach
Fast paced, quick to read, impossible to put down, this book is a complete plan for social engagement on the web.
Who this book is for
You've heard plenty of social media success stories. You know your WordPress site inside and out, but you want help. Stop right now and pick up a copy of this book.
Book Details
Paperback: 166 pages
Publisher: Packt Publishing (April 2012)
Language: English
ISBN-10: 1847199801
ISBN-13: 978-1847199805
Download [11.3 MiB]