Facebook Application Development For Dummies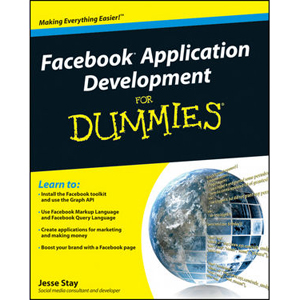 A fun and easy guide to creating the next great Facebook app!
Want to build the next runaway Facebook app like Farmville or Mafia Wars? Interested in leveraging Facebook app development as part of a marketing strategy? Whether you want to build your own Facebook app from scratch, extend an existing Facebook app, or create a game, this book gets you up and running in no time. Master the Facebook toolkit, get acquainted with the Facebook Markup and Query languages, navigate the Facebook API—even learn how to make money with your new app!
Shows you how to build the next great Facebook application with just basic HTML and scripting skills
Delves into what makes a good app and what makes a lucrative app
Explores how to create Facebook apps for marketing and viral reach, creating apps that can make money, and Facebook game development
Reviews the Facebook toolkit and gets you started with the My First Facebook application
Covers Facebook Markup and Query languages, navigating the Facebook API, and how to create a compelling interface
Create the next killer Facebook app with this approachable, fun guide!
From the Back Cover
Learn to choose your platform, plan your strategy, and spread your message with Facebook!
Ready to build the next knockout Facebook app? Whether you're starting out with a humble (but useful!) HTML tag to welcome visitors to your Facebook page or planning a fully integrated Web site that connects your visitors with their Facebook friends, this book has the scoop. If you know justa bit about HTML and basic scripting, you're ready to go!
Find the fish — see how you can put your product or servicebefore Facebook users and "fish where the fish are" with apps and Pages
Get the tools — check out the Facebook Developer app and choose a text editor, hosting service, and scripting language
Explore APIs — learn about OAuth 2.0, Graph API, Real-Time Objects, the Search API, and more
Make it mobile — program your app on the iPhone or Android Facebook SDK
Be businesslike — turn app development into a business, advertise and sell your apps, and keep up with the rules
Open the book and find:
How to create developer and test accounts
Tips for setting up an app-hosting foundation
Steps for creating a 5-minute app
How to recreate your Web site within Facebook
Integration points and how to use them
Cool ways to use Social Plugins
How to translate your Web site into multiple languages
Pitfalls to avoid
Learn to:
Install the Facebook toolkit and use the Graph API
Use Facebook Markup Language and Facebook Query Language
Create applications for marketing and making money
Boost your brand with a Facebook page
Book Details
Paperback: 408 pages
Publisher: For Dummies (May 2011)
Language: English
ISBN-10: 0470768738
ISBN-13: 978-0470768730
Download [26.2 MiB]