SharePoint 2013 For Dummies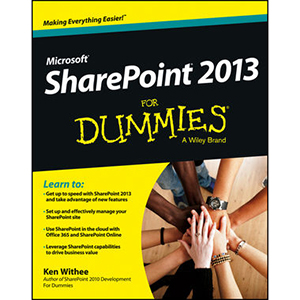 The bestselling guide on running SharePoint, now updated to cover all the new features of SharePoint 2013
SharePoint Portal Server is an essential part of the enterprise infrastructure for many businesses. Building on the success of previous versions of SharePoint For Dummies, this new edition covers all the latest features of SharePoint 2013 and provides you with an easy-to-understand resource for making the most of all that this version has to offer. You'll learn how to get a site up and running, branded, and populated with content, workflow, and management. In addition, this new edition includes essential need-to-know information for administrators, techsumers, and page admins who want to leverage the cloud-hosted features online, either as a standalone product or in conjunction with an existing SharePoint infrastructure.
Walks you through getting a SharePoint site up and running effectively and efficiently
Explains ongoing site management and offers plenty of advice for administrators who want to leverage SharePoint and Office 365 in various ways
Shows how to use SharePoint to leverage data centers and collaborate with both internal and external customers, including partners and clients
SharePoint 2013 For Dummies is essential reading if you want to make the most of this technology.
From the Back Cover
Learn to:
Get up to speed with SharePoint 2013 and take advantage of new features
Set up and effectively manage your SharePoint site
Use SharePoint in the cloud with Office 365 and SharePoint Online
Leverage SharePoint capabilities to drive business value
Learn SharePoint from the ground up, get your site going, collaborate, and go mobile
No doubt about it, SharePoint is a complex creature. So this book starts by showing you just what SharePoint is, translating the terminology, and explaining the tools. Then it helps you create a site, work with apps, and master basic SharePoint administration. Next you'll learn to get social, go mobile, work with Office 365, manage content, and, best of all, wow your coworkers with the wonders of SharePoint.
This SharePoint thing — understand the technology stack and the vast assortment of features that make up SharePoint
Making it work — create a team site, add Web Parts to web pages, and create and customize apps
Social advantages — connect with others using microblogging, feeds, alerts, mentions, ratings, and likes
Enterprising uses — use SharePoint to share and approve content, find things with search, archive documents, and develop workflows
Public or private — set up a public website or an internal client portal using SharePoint
Open the book and find:
The benefits of SharePoint for project management
How to use social networking in your company
What your role is as a SharePoint administrator
SharePoint security advice
Tips for using SharePoint on a mobile device
How to collaborate on documents in SharePoint
Steps for creating user profiles
Ten ways to become a SharePoint guru
Book Details
Paperback: 384 pages
Publisher: For Dummies (April 2013)
Language: English
ISBN-10: 1118510712
ISBN-13: 978-1118510711
Download [10.8 MiB]