Using Microsoft InfoPath 2010 with Microsoft SharePoint 2010 Step by Step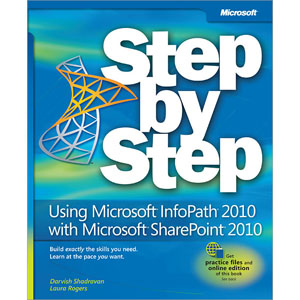 The smart way to learn how to build InfoPath forms for SharePoint—one step at a time!
Quickly teach yourself how to use Microsoft® InfoPath® 2010 to create electronic business forms for Microsoft SharePoint® 2010. With Step by Step, you set the pace—building and practicing the skills you need, just when you need them!
Design and build InfoPath forms without writing code
Add approval workflows to your InfoPath forms
Integrate data from SharePoint and other company systems
Create forms that offer a rich experience in the browser
Build views and dashboards to display form information
Create and use forms in the cloud with SharePoint Online
Table of Contents
Chapter 1 Introducing Microsoft InfoPath 2010
Chapter 2 Form Requirements: Using a Decision Matrix
Chapter 3 Form Design Basics: Working with InfoPath Layout, Controls, and Views
Chapter 4 Working with SharePoint List Forms
Chapter 5 Adding Logic and Rules to Forms
Chapter 6 Publishing and Submitting Form Data
Chapter 7 Receiving Data from SharePoint Lists and Business Connectivity Services
Chapter 8 Using the InfoPath Form Web Part
Chapter 9 Working with the SharePoint User Profile Web Service
Chapter 10 InfoPath Integration with SharePoint Designer Workflows
Chapter 11 Building an Approval Process
Chapter 12 Managing and Monitoring InfoPath Forms Services
Chapter 13 SharePoint Views and Dashboards
Chapter 14 Advanced Options
Book Details
Paperback: 480 pages
Publisher: Microsoft Press (October 2011)
Language: English
ISBN-10: 0735662061
ISBN-13: 978-0735662063
Download [50.9 MiB]