Security and Privacy for Microsoft Office 2010 Users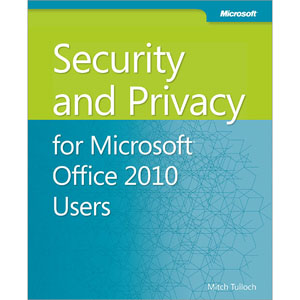 Take control—and put the built-in security and privacy features in Microsoft Office to work! Whether downloading documents, publishing a presentation, or collaborating online—this guide offers concise, how-to guidance and best practices to help protect your documents and your ideas.
Get practical, proactive guidance for using the security and privacy management features in Office 2010 and Office 365
Walk through everyday scenarios, and discover everyday techniques that help you take charge
Understand common risks and learn best practices you can apply right away
Table of Contents
Chapter 1. Why Should I Care?
Chapter 2. Alice Downloads a Document
Chapter 3. Bob Prepares a Policy
Chapter 4. Carol Collaborates on Some Content
Appendix A. Learn More
Appendix B. About the Author
About the Author
Mitch Tulloch is a widely recognized expert on Windows administration and has been awarded Microsoft Most Valuable Professional (MVP) status for his contributions supporting those who deploy and use Microsoft platforms, products, and solutions.
Book Details
Paperback: 72 pages
Publisher: Microsoft Press (March 2012)
Language: English
ISBN-10: 0735668833
ISBN-13: 978-0735668836
Download [11.7 MiB]