Security Administrator Street Smarts, 3rd Edition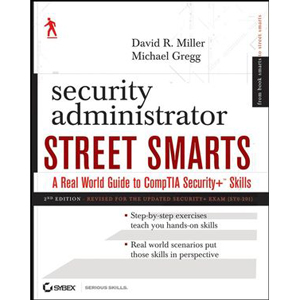 A step-by-step guide to the tasks involved in security administration
If you aspire to a career in security administration, one of your greatest challenges will be gaining hands-on experience. This book takes you through the most common security admin tasks step by step, showing you the way around many of the roadblocks you can expect on the job. It offers a variety of scenarios in each phase of the security administrator's job, giving you the confidence of first-hand experience.
In addition, this is an ideal complement to the brand-new, bestselling CompTIA Security+ Study Guide, 5th Edition or the CompTIA Security+ Deluxe Study Guide, 2nd Edition, the latest offerings from Sybex for CompTIA's Security+ SY0-301 exam.
Targets security administrators who confront a wide assortment of challenging tasks and those seeking a career in security administration who are hampered by a lack of actual experience
Walks you through a variety of common tasks, demonstrating step by step how to perform them and how to circumvent roadblocks you may encounter
Features tasks that are arranged according to four phases of the security administrator's role: designing a secure network, creating and implementing standard security policies, identifying insecure systems in an existing environment, and training both onsite and remote users
Ideal hands-on for those preparing for CompTIA's Security+ exam (SY0-301)
This comprehensive workbook provides the next best thing to intensive on-the-job training for security professionals.
From the Back Cover
Develop the skills you need in the real world
Hit the ground running with the street-smart training you'll find in this practical guide to security administration. Using a "year in the life" approach, it gives you an inside look at the common responsibilities of security administrators, with key information organized around the actual day-to-day tasks, scenarios, and challenges you'll face in the field. Updated for CompTIA Security+ Exam SY0-301, this valuable training tool is loaded with hands-on, step-by-step exercises covering all phases of a security administrator's job, including:
Designing a secure network environment
Creating and implementing standard security policies and practices
Identifying insecure systems in physical and digital environments
Providing training to onsite and remote users
An invaluable study tool
This no-nonsense book also covers common tasks that CompTIA expects all of its Security+ candidates to know how to perform. So whether you're preparing for certification or seeking practical skills to break into the field, you'll find the instruction you need, including:
Performing an initial risk assessment
Hardening all systems—services, ports, OS,and more
Encrypting files and securing data storage
Creating and managing user accounts
Deploying IPSec and securing remote systems
Securing Internet activity, networks, and wireless
Testing, pen testing, tracking, profiling, and troubleshooting
The Street Smarts series is designed to help current or aspiring IT professionals put their certification to work for them. Full of practical, real world scenarios, each book features actual tasks from the field and then offers step-by-step exercises that teach the skills necessary to complete those tasks. And because the exercises are based upon exam objectives from leading technology certifications, each Street Smarts book can be used as a lab manual for certification prep.
Step-by-step exercises teach you hands-on skills
Real world scenarios put those skills in perspective
REVISED FOR THE UPDATED SECURITY+ EXAM (SY0-301)
Book Details
Paperback: 624 pages
Publisher: Sybex; 3rd Edition (June 2011)
Language: English
ISBN-10: 1118061160
ISBN-13: 978-1118061169
Download [56.0 MiB]