BioCoder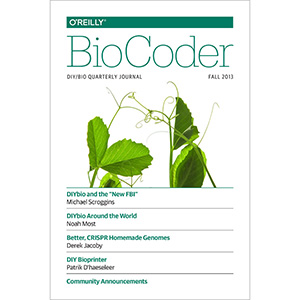 BioCoder is a quarterly newsletter for DIYbio, synthetic bio, and anything related. You'll discover:
Articles about interesting projects and experiments, such as the glowing plant
Articles about tools, both those you buy and those you build
Visits to DIYbio laboratories
Profiles of key people in the community
Announcements of events and other items of interest
Safety pointers and tips about good laboratory practice
Anything that's interesting or useful: you tell us!
And BioCoder is free (for the time being), unless you want a dead-tree version. We'd like BioCoder to become self supporting (maybe even profitable), but we'll worry about that after we've got a few issues under our belt.
If you'd like to contribute, send email to [email protected]. Tell us what you'd like to do, and we'll get you started.
About the Author
O'Reilly Media, Inc. spreads the knowledge of innovators through its books, online services, magazines, research, and conferences. Since 1978, O'Reilly has been a chronicler and catalyst of leading-edge development, homing in on the technology trends that really matter and galvanizing their adoption by amplifying "faint signals" from the alpha geeks who are creating the future. An active participant in the technology community, the company has a long history of advocacy, meme-making, and evangelism.
Book Details
Paperback: 42 pages
Publisher: O'Reilly Media (October 2013)
Language: English
ISBN-10: 1491946962
ISBN-13: 978-1491946961
Download [14.0 MiB]