Search Analytics for Your Site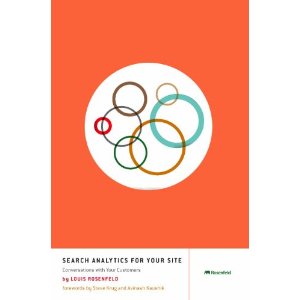 Any organization that has a searchable web site or intranet is sitting on top of hugely valuable and usually under-exploited data: logs that capture what users are searching for, how often each query was searched, and how many results each query retrieved. Search queries are gold: they are real data that show us exactly what users are searching for in their own words. This book shows you how to use search analytics to carry on a conversation with your customers: listen to and understand their needs, and improve your content, navigation and search performance to meet those needs.
When you perform search analytics on your site's data, you're using a highly useful user research method that can:
Help information architects improve the findability of information
Help authors and editors ensure that their sites provide appropriate content
Help interaction designers improve the design of search interfaces and search results
Help IT professionals better understand the demands place on their sites' search engines
Help managers better understand the people who interact with their organization, its content, and its products
Provide organizations with a unique, cost-effective way to engage with their customers and employees
This brief and practical book will provide an overview of search analytics (SA), detailed how-to information on how to generate and understand SA reports, and actionable recommendations on how to improve your site based on your SA data. Through case studies and anecdotes, the authors will provide many "real world" examples of how SA has helped different organizations to better know and serve their customers.
Book Details
Paperback: 224 pages
Publisher: Rosenfeld Media, LLC (July 2011)
Language: English
ISBN-10: 1933820209
ISBN-13: 978-1933820200
Download [52.2 MiB]