Raspberry Pi for Secret Agents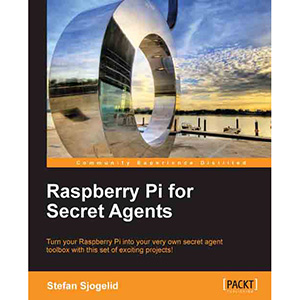 Ever wished you could play around with all the neat gadgets your favorite spies use (like James Bond or Michael Westen)? With the introduction of the remarkable Raspberry Pi and a few USB accessories, anybody can now join in on the action.
Discover how to turn your Raspberry Pi into a multipurpose secret agent tool! Through a series of fun, easy-to-follow projects you'll learn how to set up audio/video surveillance, explore your Wi-Fi network, play pranks on your friends, and even learn how to free your Raspberry Pi from the constraints of the wall socket.
Raspberry Pi for Secret Agents starts out with the initial setup of your Raspberry Pi, guides you through a number of pranks and secret agent techniques, and then shows you how to apply what you've learned out in the real world.
Learn how to configure your operating system for maximum mischief and start exploring the audio, video, and Wi-Fi projects. Learn how to record, listen, or talk to people from a distance and how to distort your voice. You can even plug in your webcam and set up a motion detector with an alarm, or find out what the other computers on your Wi-Fi network are up to. Once you've mastered the techniques, combine them with a battery pack and GPS for the ultimate off-road spy kit.
What you will learn from this book
Install and configure Raspbian OS for maximum mischief
Schedule a prank to happen when your foe least expects it
Listen in or talk to people from a distance
Detect an intruder with motion detection and set off an alarm
Distort your voice in weird and wonderful ways
Push unexpected images into browser windows
Knock all visitors off your Wi-Fi network
Control the Pi with your smartphone
Keep your data secret with encryption
Approach
A playful, informal approach to using the Raspberry Pi for mischief!
Who this book is for
Raspberry Pi for Secret Agents is for all mischievous Raspberry Pi owners who'd like to see their computer transform into a neat spy gadget to be used in a series of practical pranks and projects. No previous skills are required to follow along and if you're completely new to Linux, you'll pick up much of the basics for free.
Apart from the Raspberry Pi board itself, a USB microphone and/or a webcam is required for most of the audio/video topics and a Wi-Fi dongle is recommended for the networking examples. A Windows/Mac OS X/Linux computer (or second Raspberry Pi) is also recommended for remote network access.
Book Details
Paperback: 152 pages
Publisher: Packt Publishing (April 2013)
Language: English
ISBN-10: 1849695784
ISBN-13: 978-1849695787
Download [8.8 MiB]