Publishing with iBooks Author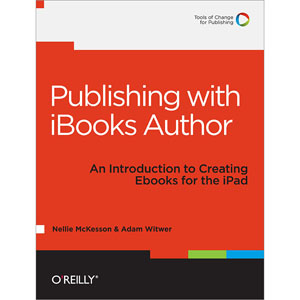 iBooks Author is the first tool of its kind. Never before have publishers, authors, and content creators had a tool for making dynamic, interactive ebooks in a WYSIWYG environment. This book is intended to get you up and writing in iBooks Author. You'll learn what to expect from this new tool and what its strengths and limitations are. You'll see how you can create beautifully designed pages and how you can bring those designs to life with interactive content in ways that, before now, were only possible in a web browser on the Internet. You'll also find out how to navigate the occasionally tricky terrain of Apple's ecosystem so that you can get your book published to the iBookstore.
Table of Contents
Chapter 1. Tour
Chapter 2. Book Building Basics
Chapter 3. Text
Chapter 4. Objects
Chapter 5. Layouts
Chapter 6. Publish Your Book
About the Author
Nellie McKesson is a production specialist at O'Reilly Media, where she focuses on ebook development and improved production processes while also overseeing book reprints and errata. She began as a print layout specialist with an expert knowledge of InDesign. She's currently experimenting with a new production workflow using CSS to transform XML documents to print- and web-friendly PDFs. Nellie is also the production assistant at A Book Apart, and provides freelance ebook and print production services.
Adam Witwer oversees the Publishing Services division at O'Reilly Media. He manages print, ebook/digital development, video production, and manufacturing. Adam managed the O'Reilly production department's transition to an XML-based workflow. In the process, he became an expert in the challenges of publishing to multiple sources and formats from a single source. He now focuses on ebook development at O'Reilly and thinking about the next generation of books.
Book Details
Paperback: 70 pages
Publisher: O'Reilly Media (February 2012)
Language: English
ISBN-10: 1449329780
ISBN-13: 978-1449329785
Download [16.2 MiB]