Firing at Will: A Manager's Guide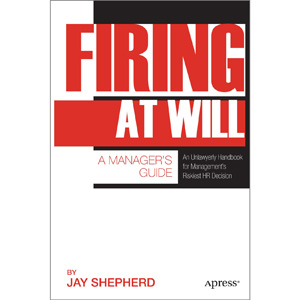 Firing at Will shows managers and employers how to do the most difficult part of their jobs: firing employees. Written by a leading employment lawyer in a refreshingly unlawyerly style, this guide takes the reader through the always-risky process of letting an employee go. Many employers and managers are afraid to pull the trigger when the employment relationship has broken down, and will postpone the decision by using progressive discipline and performance-improvement plans. However, an employer must be able to unload employees who threaten to undermine the company and its prospects, regardless of the risks involved in a termination. This book explains how to do it, how not to do it, and how to minimize the danger of an expensive employee lawsuit.
No one said being an employer or a manager was easy. Fortunately, knowing how to fire employees will make your job much, much easier in the long run and save you heartache. Firing at Will teaches you what you need to know, without any legalese or boring recitations of statutes and case law. This book is filled with plain-English common sense, based on Jay Shepherd's 17 years of protecting employers in court. The style is conversational and often irreverent, but the lessons and tips are battle-tested. If you want to be a successful manager or employer—and sleep easier—you need to know how to fire at will.
Gives employers and managers real-world advice on how to fire employees
Teaches how to keep your company—and yourself—out of expensive employee lawsuits
Guides you toward building a workplace where you'll need to fire fewer employees
What you'll learn
How to make the ultimate decision to fire an employee, and how to carry out that decision
The 30 riskiest employees to fire
The critical "Retained Dignity" factor, and why you need to keep it as high as possible
Why progressive discipline and performance appraisals are ineffectual
How your hiring methods and decisions can help you avoid firing employees later
How to have "gruntled" employees who wouldn't dream of suing you
Who this book is for
Firing at Will is a handbook for managers, employers, business owners, human resources professionals, and in-house counsel. Most of these readers will have had very little training in the hows and whens and whys of firing employees. Most people just follow their instincts, often leading to disastrous consequences. For anyone who has the responsibility of hiring and supervising employees, Firing at Will gives guidance and direction to lower the risks of employee terminations.
Table of Contents
Introduction: The Hardest Part of Your Job
"At Will" Is Alive and Well
The Freedom to Fire
Risky Business: The Perils of Employee Lawsuits
The 30 Riskiest Employees to Fire
Why Me? The Reasons for Firing
How to Fire an Employee
Retained Dignity
The Paper Trail
Second Chances and PIPs
Sign of the Times: Layoffs
Discrimination Cases: Part 1
Discrimination Cases: Part 2
A Big Payday: Wage Cases
He Said, She Said: Sexual Harassment
Lawyering Up
Throw Out Your Personnel Handbook
Hiring to Avoid Firing
Gruntled Employees
Appendix B: Firing Around the World
Appendix A: Firing Checklist
Appendix C: Sample Documents
Book Details
Paperback: 296 pages
Publisher: Apress (November 2011)
Language: English
ISBN-10: 1430237384
ISBN-13: 978-1430237389
Download [5.2 MiB]