ProBlogger's Guide to Blogging for Your Business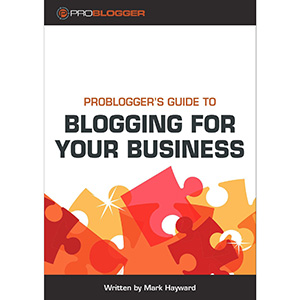 With ProBlogger's Guide to Blogging for Your Business.
As a business owner you don't have the time to take the trial and error approach, you need help from someone who's done it all before and can show you how to build a successful blog for your business, right from the start.
In this 143 page eBook, business owner, activist, and blogging coach Mark Hayward guides you through creating a successful online presence for your business.
Take the Guesswork out of Blogging
ProBlogger's Guide to Blogging for Your Business takes the guesswork out of business blogging and it's perfect for you if you are:
time-poor: you don't have time for guesswork and dead-ends
action-oriented: you want to do, not read
focused: you understand that building a business blog will take time
astute: you're not looking for get-rich-quick gimmicks
human: you don't want to feel overwhelmed of frustrated
determined: you need to succeed
Step-by-Step Advice to Save Hours of Time and Endless Frustration
By the time you're finished this eBook will have helped you:
Set up a WordPress blog… without any technical know-how.
Conduct targeted keyword research… even if you've never done it before.
Understand your online competition… whether they're next door, or on the next continent.
Build a strong social media footprint… even if you don't know the first thing about finding "followers."
Set a successful business blogging strategy… no matter what your product or market.
What's in this eBook?
Over 12 simple, practical chapters, Mark distils his experience as a bricks-and-mortar business owner who built his clientele using simple, cost-effective online methods.
Defining blogging and how it will benefit your business
Defining your goals
Getting started with blogging
Deciding on and registering a domain name
Installing WordPress
Intro to WordPress plugins
Developing a content strategy and editorial calendar
Developing content ideas and fighting blogging frustration
Publishing your first blog post
Finding readers and traffic for your blog
Optimizing Flickr and YouTube for your blog's online presence
Creating your social media footprint and measuring your blogging ROI
A Practical Guide to Achieve Your Goals – no matter what your business
Practical tasks at the end of each chapter let you implement Mark's mentoring in a way that suits your business, and your customers.
Because this eBook is written in a practical, step by step way.  You'll be blogging before you know it and your business will be:
reaching the right people
building your customer base
growing your brand
establishing profile and influence within your industry
Blogs level the playing field and enable you to play with more established competitors in your industry – but the key is to start.
Book Details
Paperback: 143 pages
Publisher: ProBlogger (June 2011)
Language: English
Download [13.5 MiB]