Mobile First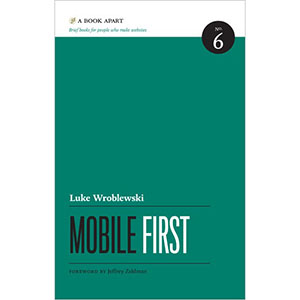 Our industry's long wait for the complete, strategic guide to mobile web design is finally over. Former Yahoo! design architect and co-creator of Bagcheck Luke Wroblewski knows more about mobile experience than the rest of us, and packs all he knows into this entertaining, to-the-point guidebook. Its data-driven strategies and battle tested techniques will make you a master of mobile—and improve your non-mobile design, too!
Table of Contents
Part 1: Why Mobile First?
Chapter 1. Growth
Chapter 2. Constraints
Chapter 3. Capabilities
Part 2: How to go Mobile
Chapter 4. Organization
Chapter 5. Actions
Chapter 6. Inputs
Chapter 7. Layout
About the Author
Luke Wroblewski is an internationally recognized digital product leader who has designed or contributed to software used by more than 700 million people worldwide. Most recently Luke was the Chief Product Officer (CPO) and co-founder of Bagcheck, which was acquired by Twitter Inc. in 2011. Before then Luke was Chief Design Architect (VP) at Yahoo! Inc., the Lead User Interface Designer of eBay Inc.'s platform team, and a co-founder of the Interaction Design Association (IxDA). Luke is also the author of Web Form Design and Site-Seeing: A Visual Approach to Web Usability and a consistently top-rated speaker at conferences and companies around the world.
Book Details
Paperback: 123 pages
Publisher: A Book Apart (2011)
Language: English
ISBN-10: 1937557022
ISBN-13: 978-1937557027
Download [15.5 MiB]