Pro Expression Blend 4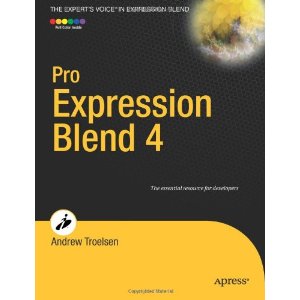 Pro Expression Blend 4 is for .NET developers wanting to learn how to use Expression Blend when creating their WPF and Silverlight applications. The book focuses on the Blend IDE and is comprised of two parts.
The first part of the book provides a detailed examination of the key Blend topics, including workspace customization, graphics, layout, styles, themes, data binding, and the use of SketchFlow. At the end of this part you will have an excellent understanding of the Blend product and what it can do for you.
The second part of this book makes it unique.  It contains a series of walkthrough 'lab' sessions to build four fully working applications. This part of the book is more detailed and modeled on the tutorial support that you might receive in a good training class or hands-on lab. You'll work with both Blend and .NET code to finalize fully working projects that will provide both valuable insights and a foundation of working code for your future WPF and Silverlight projects.
What you'll learn
Go on a complete tour of the Blend IDE and understand its potential.
Learn how Blend can be used to simplify your WPF and Silverlight workflows making you both faster and more productive.
Understand how to rapidly prototype your ideas using the powerful SketchFlow tools
Build a fully working video game as a proof-of-concept for your new-found skills
Who this book is for
This book is for developers who find themselves needing to work with Blend. As you'd expect from a Microsoft technology, the underlying code is C# but the focus is squarely on the Blend IDE, making the book suitable for for both .NET developers and experienced programmers from other technology areas moving to Blend for the first time.
Book Details
Paperback: 550 pages
Publisher: Apress (February, 2011)
Language: English
ISBN-10: 143023377X
ISBN-13: 978-1430233770
Download [10.0 MiB]