Murach's ADO.NET 4 Database Programming with VB 2010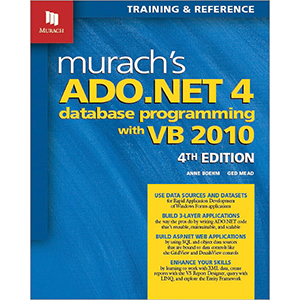 If you're going to develop serious database applications in Visual Basic…the kind that businesses rely on every day…then this is the book for you.
It teaches you how to use Visual Studio 2010 and ADO.NET 4 to develop professional database applications for both Windows and the web as quickly and easily as possible.
And it covers the full gamut of skills you need, from using built-in data tools that generate ADO.NET code to writing your own ADO.NET code from scratch so you can closely control how the database processing works:
In section 1, you'll get a basic introduction to databases, SQL, and ADO.NET. If you already have ADO.NET experience, you can skip ahead.
In section 2, you'll quickly be creating database applications using Rapid Application Development (RAD) tools like data sources.
In section 3, you'll build 3-layer applications the way the pros do, with presentation, business, and database classes. This is where you'll get into ADO.NET coding to create your own classes. You'll also learn how to use object data sources to make this approach even more effective.
In section 4, you'll develop database applications for the web using ASP.NET 4 data controls like GridView and DetailsView, along with object data sources.
In section 5, you'll complete the set of skills that every .NET database programmer should have by learning how to (1) handle XML data in your applications, (2) create reports with Visual Studio's Report Designer and the ReportViewer control, (3) use LINQ to SQL to query datasets and SQL Server databases, and (4) use the Entity Framework and LINQ to Entities to work with database data through an Entity Data Model.
Who this book is for
If you're new to .NET database programming, this book will get you going faster and better than any other book on the market. If you already have some database programming experience, this book lets you learn new skills whenever you have a few minutes. And new or experienced, this is the ideal reference for .NET database programming because no one can remember the countless details that are required.
Table of Contents
Section 1: An introduction to ADO.NET programming
Chapter 1. An introduction to database programming
Chapter 2. An introduction to ADO.NET 4
Section 2: How to use data sources and datasets for Rapid Application Development
Chapter 3. How to work with data sources and datasets
Chapter 4. How to work with bound controls and parameterized queries
Chapter 5. How to use the Dataset Designer
Section 3: Three-layer Windows Forms applications
Chapter 6. How to work with connections, commands, and data readers
Chapter 7. How to work with parameters and stored procedures
Chapter 8. How to work with transactions
Chapter 9. How to work with object data sources
Chapter 10. A complete Payable Entry application
Section 4: How to use ADO.NET with web applications
Chapter 11. How to use SQL data sources
Chapter 12. How to use the GridView control
Chapter 13. How to use the DetailsView control
Chapter 14. How to use object data sources
Section 5: Advanced database programming skills
Chapter 15. How to work with XML data
Chapter 16. How to use the reporting features of Visual Studio
Chapter 17. How to use LINQ
Chapter 18. How to use the Entity Framework
Resources
Appendix A. How to install and use the software and files for this book
Book Details
Paperback: 756 pages
Publisher: Mike Murach & Associates; 4th Edition (March 2011)
Language: English
ISBN-10: 9781890774622
ISBN-13: 978-1890774622
Download [113.7 MiB]